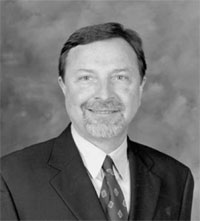 Sisyphus and Leviathan Meet Goldilocks and the Three Bears: The Dilemmas of Presidential Leadership
MICHAEL GENOVESE
MONDAY, OCTOBER 13, 2008
Professor Michael Genovese's work on the American Presidency has particular relevance in this election year, and the Kravis Leadership Institute at Claremont McKenna College has invited him to participate in the series "Power and Persuasion" hosted by the Athenaeum.

Genovese currently holds the Loyola Chair of Leadership Studies and is Professor of Political Science, and director of the Institute for Leadership Studies at Loyola Marymount University. In 2006, he was made a Fellow at the Queens College, Oxford University. Professor Genovese has written seventeen books, including The Paradoxes of the American Presidency, (co-authored by Thomas E. Cronin), Oxford University Press, 2nd ed 2004; The Presidency and the Challenges of Democracy (co-edited with Lori Cox Han), Palgrave, 2006; The Power of the American Presidency 1789-2000, Oxford University Press, 2001, The Presidential Dilemma, Longman, 2nd ed 2003, The Encyclopedia of the American Presidency, Facts-on File, 2004 (winner of the New York Public Library, "Best of Reference" work of 2004), and Memo to a New President: The Art and Science of Presidential Leadership, Oxford University Press, 2007.
Professor Genovese has won over a dozen university and national teaching awards, including the Fritz B. Burns Distinguished Teaching Award (1995). Professor Genovese frequently appears as a political commentator on local and national television. He is also Associate Editor of the journal, White House Studies, is on the Editorial Board of the journal, Rhetoric & Public Affairs, has lectured for the United States Embassy abroad, and is editor of Palgrave Macmillan Publishing's, "The Evolving American Presidency" book series. Professor Genovese has been The Washington Center's "scholar-in-residence" at three national political conventions. In 2004-05, Professor Genovese served as President of the Presidency Research Group of the American Political Science Association.