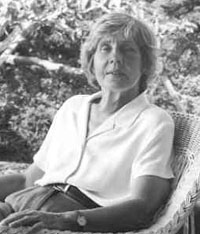 Repeated Injuries and Usurpations: Women's Struggles for Civil Rights from 1848-1970
JEAN BAKER
WEDNESDAY, OCTOBER 15, 2008
Jean H. Baker, a native of Baltimore, is a professor of history at Goucher College. She is the author of ten books on American political history and biography, including
The Stevensons of Illinois: A Biography of an American Family
(1997);
Affairs of Party: The Political Culture of Northern Democrats in Mid-Century America
(1983); and
James Buchanan
(2004), as well as numerous articles and essays on topics such as republicanism and democracy, the Civil War and Reconstruction, and the battle for women's suffrage. Baker is well known for her book
Mary Todd Lincoln: A Biography
(1987), widely considered the finest study of this First Lady. She is currently at work on a book about birth control activist Margaret Sanger.
Professor Baker's recent book Sisters: The Lives of America's Suffragists (Hill and Wang, 2005) interweaves the private lives of five suffrage leaders—Lucy Stone, Susan B. Anthony, Elizabeth Cady Stanton, Frances Willard, and Alice Paul — with their public achievements as it narrates the long struggle for the rights of citizenship. Baker points out that while most Americans venerate the public and private lives of our founding fathers, we know only the public lives — if that—of our founding mothers. She uses biography as a means of telling the story of the suffrage movement.
Professor Baker lives on a farm, likes to swim, play tennis, and ride horseback, and names all her animals after figures whom she admires and writes about in her books. She has a golden retriever named Maggie after Margaret Sanger and a horse, named by one of her eight grandchildren, called Bama. Her talk at the Athenaeum is part of the history department series "Critical Topics in World History."