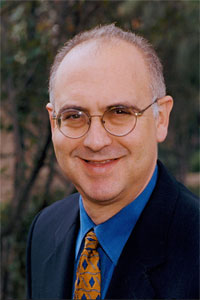 Robert Day School Distinguished Speaker Series
Lunch with a Leader: The Media Industry
JEFFREY KLEIN '75 P'08 P'11
FRIDAY, NOVEMBER 7, 2008
LUNCH 12:00 p.m. LECTURE 12:30 p.m.
Jeffrey Klein is a seasoned and highly regarded media CEO, a successful writer, and a popular lecturer. Trained as both a lawyer and a journalist, he has more than 20 years of experience operating newspaper, television, magazine, and internet businesses.

From 2001 to 2006, he was president and CEO of 101communications, a B2B publisher serving the Information Technology market, a company Klein co-founded with the backing of a Chicago-based private equity firm, The Frontenac Company. In April 2006, Klein and Frontenac sold 101 to 1105 Media, a holding company where Klein remained as Chairman of the Board.

Klein spent 15 years with the Los Angeles Times and Times Mirror in senior management positions, including Senior Vice President and General Manager, News and Senior Vice President, Consumer Marketing. He also served as president of two large regional editions of the newspaper. For several years, Klein was CEO of California Community Newspapers, Inc, a Times Mirror company.

Klein is one of the few traditional media executives who has successfully transitioned to the internet publishing model. In 2006, he was named to the "Folio Forty," the list in Folio: of the 40 most influential people in the magazine industry. In 2004, he was selected as one of the three most innovative CEOs in trade publishing by B2B's Media Business magazine.

Klein began his career as a lawyer, first in the entertainment industry and later on behalf of the Los Angeles Times as a specialist in First Amendment issues. He has taught media law and media business classes at the University of Southern California for many years. For ten years, he also wrote a weekly consumer law column for the Los Angeles Times. He writes a regular column called Executive Perspective for Folio:, the magazine of magazine management.

Klein is active in the community, having served on various non-profit boards, including the United Way, Foundation for American Communications, and the Alliance for the Arts. He recently finished his two year term as president of the board of directors of MEND, Meet Each Need with Dignity, the largest privately funded antipoverty agency in the San Fernando Valley, where he led its recent $8.5 million capital campaign.

Klein received his master's degree in journalism from Columbia University, his law degree from Stanford University, and his bachelor's degree, summa cum laude, from Claremont McKenna College. He is married and has three daughters. During his presentation, Mr. Klein will discuss his previous experience and will also share some of his strategies for success.