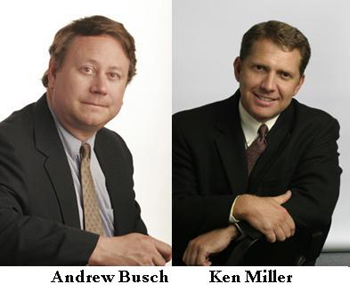 Election Night at the Athenaeum
ANDREW BUSCH
KEN MILLER
TUESDAY, NOVEMBER 4, 2008
After months of waiting, tonight is the night that matters. Election night is upon us!

As is the tradition, the Athenaeum will serve a special election night dinner while the returns come in on the big screen. During and after dinner, Professor Andrew Busch and Professor Ken Miller will answer questions and provide real time commentary.

Andrew E. Busch is professor of government and Associate Dean of the Faculty at Claremont McKenna College. He has authored or co-authored ten books on American government and politics, including most recently The Constitution on the Campaign Trail: The Surprising Political Career of America's Founding Document (2007), Reagan's Victory: The 1980 Elections and the Rise of the Right (2005), and Red Over Blue: The 2004 Elections and American Politics (with James W. Ceaser) (2005). He is currently at work with James W. Ceaser and John J. Pitney on a book on the 2008 elections. Professor Busch received his B.A. from the University of Colorado and his M.A. and Ph.D. from the University of Virginia.

Ken Miller is an assistant professor of government at Claremont McKenna College. Professor Miller received his B.A.from Pomona College and his JD from Harvard Law School. He practiced law at Morrison & Forester, LLP before receiving his Ph.D. from the University of California, Berkeley. He most recently co-authored The New Political Geography of California (2008). He is currently completing a book entitled Direct Democracy and the Courts (2009). His other publications include "Constraining Populism: The Real Agenda of Initiative Reform" (2001) and "The Davis Recall and the Courts" (2004). Miller has served recently as a regular commentator on the presidential election for BBC World Service Radio. He has also provided political commentary for NPR, CBC, Financial Times, Los Angeles Times, and the San Francisco Chronicle.