Athenaeum Location
Print Newsletter
November 10, 2008
Vol. 24, No. 04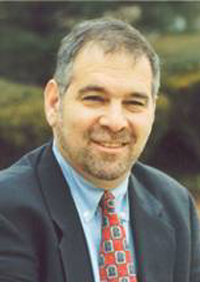 Kristallnacht: Memory and Legacies, The Synagogue and Its Rabbis under Oppression in Nazi Germany
MICHAEL BERENBAUM
MONDAY, NOVEMBER 10, 2008
November 9-10, 2008 marks the 70th anniversary of tragic event known as Kristallnacht (Crystal Night). On this evening, 92 Jews were murdered and 25,000 were arrested and deported to concentration camps in Nazi Germany. In addition, hundreds of synagogues were destroyed, and thousand of Jewish businesses and homes were ransacked. Kristallnacht is referred by many as the start of the Holocaust.

Michael Berenbaum is a writer, lecturer, and teacher consulting in the conceptual development of museums and the content and conceptual development of historical films. He is director of the Sigi Ziering Institute: Exploring the Ethical and Religious Implications of the Holocaust and also a professor of Jewish Studies at American Jewish University. For three years, he was President and Chief Executive Officer of the Survivors of the Shoah Visual History Foundation. He was also the Director of the United States Holocaust Research Institute at the U.S. Holocaust Memorial Museum.

Previously he served as Director of the Jewish Community Council of Greater Washington, Opinion Page editor of the Washington Jewish Week and Deputy Director of the President's Commission on the Holocaust where he authored its Report to the President (1979). He has taught at Wesleyan University, Yale University and has served as a visiting professor at George Washington University, The University of Maryland, and American University. Berenbaum is the author and editor of sixteen books, scores of scholarly articles, and hundreds of journalistic pieces. His most recent books include: A Promise to Remember: The Holocaust in the Words and Voices of Its Survivors (2003) and After the Passion Has Passed: American Religious Consequences (2004).

Michael Berenbaum's lecture at the Athenaeum is sponsored the Center for the Study of the Holocaust, Genocide, and Human Rights.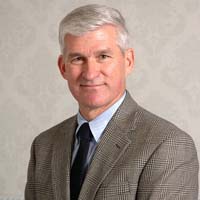 The Limits of American Power
ANDREW BACEVICH
TUESDAY, NOVEMBER 11, 2008
As the United States struggles to fight two wars and elects a new president, a debate on American foreign policy is more relevant and necessary than any other time in recent memory. Under what conditions should America use force? How do we end our involvement in Iraq and Afghanistan? To what degree can we influence events outside our borders?

Andrew Bacevich, professor of international relations at Boston University, will address these questions and others in his lecture. Dr. Bacevich is the author of The Limits of Power: American Exceptionalism (2008). His previous books include American Empire: The Realities and Consequences of U.S. Diplomacy (2002) and The New American Militarism: How Americans Are Seduced by War (2005). His essays and reviews have appeared in a wide variety of scholarly and general interest publications including The Wilson Quarterly, The National Interest, Foreign Affairs, Foreign Policy, The Nation, The American Conservative, and The New Republic. His op-eds have appeared in the New York Times, Washington Post, Wall Street Journal, Financial Times, Boston Globe, Los Angeles Times, and USA Today.

Dr. Bacevich is a graduate of West Point and received his Ph.D. in American Diplomatic History from Princeton University.

In observance of Veteran's Day honoring all military veterans the visit to campus by Andrew Bacevich is jointly sponsored by the Keck Center for International and Strategic Studies and the Athenaeum.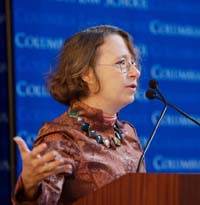 PHI BETA KAPPA VISITING SCHOLAR
International Courts and the U.S. Supreme Court: Who Has the Final Word?
LORI DAMROSCH
WEDNESDAY, NOVEMBER 12, 2008
LUNCH 11:30 a.m. LECTURE 12:00 p.m.
The Supreme Court and the Bush Administration have been weighing the importance of international law in domestic decisions. In one case, Medellin v. Texas, the treaty rights of a Mexican citizen, including the right to communicate with the Mexican consulate, were violated. The Bush Administration argued that the U.S. comply with a ruling from The Hague that death sentences be reviewed in the case of a breach, while Texas (and other states) contest that the President does not have the authority to intervene in such cases. Does the ruling from The Hague matter?

In her Athenaeum talk, Lori Damrosch, an expert on international law, will address this question and its implications. Damrosh joined the Columbia faculty in 1984 and is now Henry L. Moses Professor of Law and International Organization. Her principal areas of research are public international law and the U.S. law of foreign relations. She is the author or co-editor of International Law: Cases and Materials (2001), Enforcing International Law Through Non-Forcible Measures (1997), Beyond Confrontation: International Law for the Post-Cold War Era (1995), Enforcing Restraint: Collective Intervention in Internal Conflicts (1997), Law and Force in the New International Order (1992), and The International Court of Justice at a Crossroads (1987).

A member of the Council on Foreign Relations and of the State Department's advisory committee on international law, she has been a vice president and counselor of the American Society of International Law and was the organizer of its U.S.-Russian research project on international law. In 2003 she was appointed editor-in-chief of the American Journal of International Law.

Professor Damrosch is spending the day on the CMC campus under the auspices of the Phi Beta Kapp Visiting Scholars program.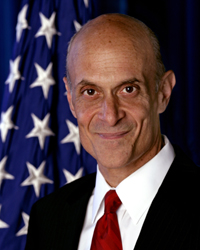 Conversation with the Secretary of Homeland Security
MICHAEL CHERTOFF
WEDNESDAY, NOVEMBER 12, 2008
On February 15, 2005, the United States Senate unanimously confirmed Michel Chertoff as the second Secretary of the Department of Homeland Security, the most recent addition to the President's Cabinet. He previously served as United States Circuit Judge for the Third Circuit Court of Appeals.

Secretary Chertoff was confirmed by the Senate in 2001 to serve as Assistant Attorney General for the Criminal Division at the Department of Justice. As Assistant Attorney General, he oversaw the investigation of the 9/11 terrorist attacks. He later co-authored the USA Patriot Act signed into law by President George W. Bush on October 26, 2001.

Prior to that, Secretary Chertoff spent more than a decade as a federal prosecutor including service as U.S. Attorney for the District of New Jersey, First Assistant U.S. Attorney for the District of New Jersey, and Assistant U.S. Attorney for the Southern District of New York working with Rudy Giuliani on a number of initiatives including the celebrated "Mafia Commission" case.

Before joining the George W. Bush Administration, Secretary Chertoff was a Partner in the law firm of Latham & Watkins. From 1995 to 1996, he served as Special Counsel for the U.S. Senate Whitewater Committee.

Secretary Chertoff graduated magna cum laude from Harvard College in 1975 and magna cum laude from Harvard Law School in 1978. He served as clerk to Supreme Court Justice William Brennan, Jr. from 1975 to 1980.

Secretary Chertoff's Athenaeum lecture is sponsored by the Res Publica Society of Claremont McKenna College.
The Woman Who Pretended to Be Who She Was
WENDY DONIGER
THURSDAY, NOVEMBER 13, 2008
A leading authority in international religious studies for more than thirty years, Wendy Doniger is one of the most eclectic scholars in the humanities today. Topics as varied as death, dreams, evil, horses, sex, and women have attracted her critical gaze, and her work has been termed "at once exactingly learned, strikingly original, exuberantly humane, and refreshingly witty."

Doniger's principal teaching and research interests are Hinduism and mythology, but she draws cannily for material from everywhere, including Greek myths, the Hebrew Bible, medieval romance, Shakespeare, and Hollywood. Doniger's writing first drew praise in 1973, for Asceticism and Eroticism in the Mythology of Siva (1973), and the twenty-something books she has written since include Other People's Myths: The Cave of Echoes (1995); The Bedtrick: Tales of Sex and Masquerade (2000); The Origins of Evil in Hindu Mythology (1980); The Rig Veda: An Anthology (2005); and, most recently, The Woman Who Pretended to Be Who She Was: Myths of Self-Imitation (2004).

Wendy Doniger has taught at the University of Chicago since 1978, where she is currently director of the Martin Marty Center, the Mircea Eliade Distinguished Service Professor of the History of Religions, and a member of the Committee on Social Thought; the other titles she holds are too numerous to list. Doniger has two doctorates from Harvard and Oxford.

This lecture by Professor Doniger is part of the freshmen seminar series, Self and Society, and is sponsored by the Dean of the Faculty at CMC.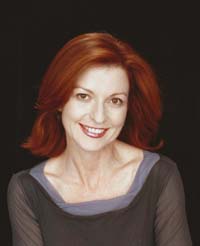 Fit to Print: Writing on Washington
MAUREEN DOWD
MONDAY, NOVEMBER 17, 2008
In one of her recent New York Times columns, Maureen Dowd wrote a screenplay entitled "The Maverick Wears Prada," about two female McCain staffers trying to contain the fallout of Vice-Presidential candidate Sarah Palin "going rogue."

Such satire is commonplace in Ms. Dowd's columns, which often contain witty, incisive and often acerbic commentary on American politics. Winner of the 1999 Pulitzer Prize for distinguished commentary, she has been a columnist at The New York Times since 1995, after having been a correspondent at the Washington bureau of the paper for nine years. She also wrote a column, "On Washington", for The New York Times Magazine. She began her career in 1974 as an editorial assistant for The Washington Star, where she later became a sports columnist, metropolitan reporter and feature writer. When the Star closed in 1981, she went to Time magazine, prior to joining The New York Times in 1983. She is the author of Are Men Necessary: When Sexes Collide (2005) and Bushworld: Enter at Your Own Risk (2005).

A native of Washington, D.C. she received her B.A. in English literature from Catholic University in 1973.

Ms. Dowd's visit to CMC is jointly sponsored by the Office of the President and the Athenaeum.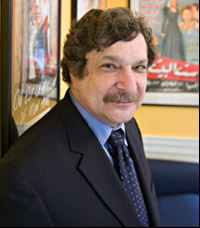 The Strange and Wonderful in Medieval Persian and Arabic Literature and Art
ROY MOTTAHEDEH
TuESDAY, NOVEMBER 18, 2008
Roy P. Mottahedeh is the Gurney Professor of History in the Faculty of Arts and Sciences, and director of the Prince Alwaleed Bin Talal Islamic Studies Program at Harvard University. A major Islamic social historian, Roy Mottahedeh focuses his scholarship on the premodern social and intellectual history of the Islamic Middle East.
Professor Mottahedeh's books include: Loyalty and Leadership in an Early Islamic Society (2001), The Mantle of the Prophet: Religion and Politics in Iran (1985), and Lessons in Islamic Jurisprudence (2003). He has also written numerous articles and serves as the faculty adviser for the Harvard Middle Eastern and Islamic Review and is currently working on a history of southern Iraq from the end of monarchy to the American-led invasion. In June 2006, the University of Lund in Sweden awarded him an honorary doctorate.
After completing his undergraduate studies in history at Harvard, Mottahedeh studied Persian and Arabic at Cambridge University in England. He continued his graduate studies at Harvard and was elected to the Harvard Society of Fellows, receiving his Ph.D. in 1970. Mottahedeh joined Harvard's History Department faculty as professor of Islamic history in 1986. From 1987 to 1990, he served as director of the Center for Middle Eastern Studies. Mottahedeh was among the first MacArthur Prize Fellows and has also received a Guggenheim Fellowship.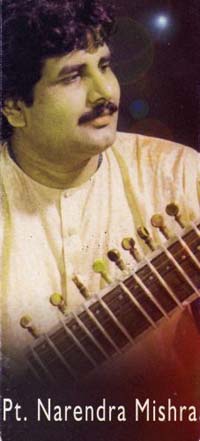 Peace and Excitement: A Sitar Concert
NARENDRA MISHRA, sitar
ABHIMAN KAUSHAL, tabla
NANDINI MAJUMDAR '10, tanpura
WEDNESDAY, NOVEMBER 19, 2008
Narendra Mishra comes from a venerable family of musicians in Varanasi, India. He gave his first concert at the age of ten. He has played all over India since and been honoured with awards. He has played in Europe and has an ardent fan following in Britain and Switzerland. This will be his first concert in the USA.

Narendra Mishra will play Hindustani or North Indian classical music through the four stages of a sitar concert: the alap or sensuous introduction that explores the ambience of a chosen raga; the jor or allegro; the gata or composed lyrical piece with a rhythmic accompaniment; and the jhala or virtuoso demonstration of a fast tempo.

Narendra Mishra began his sitar training with his father Pandit Mannu Lal Mishra and completed it under the sitar maestro Ustad Vilayat Khan. This training has been completely in the Indian classical music system of guru-shishya teaching, or one-to-one master-pupil training within a certain style called a gharana or school.

He will be accompanied on the tabla, the North Indian classical double drums, by Abhiman Kaushal. Kaushal, who teaches at UCLA, has accompanied renowned artists, and has performed extensively. Nandini Majumadar '10 will also provide accompaniment with the tanpura, a four stringed instrument used to create background harmony.
This concert commemorates the new period dawning in the USA, hopefully of peace and definitely of excitement! The combination of excitement and peace is the defining feature of Indian classical music, and equally, is true of India today.

The concert at 6:45 p.m. is free and open to all. For dinner reservations please fill out your reservation on the Athenaeum website http://www.claremontmckenna.edu/mmca/cur_reserve.php. CGU students will need to pay $10.00 for their dinner.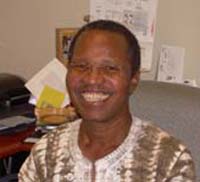 Going Global with Leadership: Developing Sustainable Economies in Africa
WACIRA GETHAIGA
FRIDAY, NOVEMBER 21, 2008
LUNCH 11:45 a.m. LECTURE 12:15 p.m.
Dr. Wacira Gethaiga is a Professor Emeritus and former long-time Chair of the Afro-Ethnic studies department at California State University at Fullerton. He will be discussing the role of leadership in developing economies in Africa.

Professor Gethaiga emigrated from Kenya in the 1960s and received his B.A. in Political Science from Occidental University. He later received his doctorate in Education Administration with a focus on politics and anthropology from Claremont Graduate University. He is a member of SIETAR (International Society for Intercultural Education, Training and Research) as well as African Studies Association of USA.

He began teaching at CSU Fullerton in 1969 and has been involved in all phases of development, maintenance, and improvement of the African Studies major, from its inception to the present. In his teachings, he challenges students to reevaluate the negative stereotypes surrounding the African continent regarding AIDS, civil wars, and mass genocide, to gain a more rounded understanding of the centrality of the African continent and its gifts to the world.

During his tenure, he has been a visiting professor at Kenyatta University and created and directed the East African Study Program in which he led students on summer tours of Kenya. He has addressed students at the University of Zimbabwe as well as University of The North, Pietermaritzburg, South Africa on the topic of Language and Culture with respect to development in Africa. In his academic career he has been teaching African-American studies as well and in 2004 was behind the creation of the African American Resource Center, a center for African American students to meet and develop strategies for reaching out to the University and community to increase black student enrollment. Of this achievement, he explains, "I'll be forever grateful to all who made the Resource Center a reality."

Dr. Gethaiga will provide the keynote address of International Careers Conference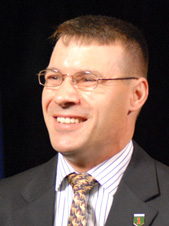 Global War on Terror: A New American Security
JOHN NAGL
MONDAY, NOVEMBER 24, 2008
Lieutenant Colonel John Nagl is one of the central thinkers behind the switch in the U.S. Army from fighting a conventional "tank-on-tank" war in Iraq to a counterinsurgency. He elaborated on this shift in strategy in an interview with Mother Jones: "It is almost impossible for an outside power to defeat an insurgency. What an outside power can do is enable local forces to defeat a locally developed insurgency."

Now retired from the Army, Dr. John Nagl is a Senior Fellow at the Center for a New American Security. His last assignment was as commander of the 1st Battalion, 34th Armor at Fort Riley, Kansas, training Transition Teams that embed with Iraqi and Afghan units. Nagl led a tank platoon in Operation Desert Storm and served as the operations officer of a tank battalion task force in Operation Iraqi Freedom. A Distinguished Graduate of West Point and a Rhodes Scholar, he earned his doctorate from Oxford University, taught national security studies at West Point, and served as a Military Assistant to the Deputy Secretary of Defense. Nagl also earned a Master of the Military Arts and Sciences Degree from the Command and General Staff College, where he received the George C. Marshall Award. He is the author of Learning to Eat Soup with a Knife: Counterinsurgency Lessons from Malaya and Vietnam (2002) and was on the writing team that produced the U.S. Army/Marine Corps Counterinsurgency Field Manual (2007). He was awarded the Combat Action Badge by General James Mattis, USMC.

John Nagl is co-sponsored by the Keck Center for International and Strategic Studies, ROTC, and the Athenaeum.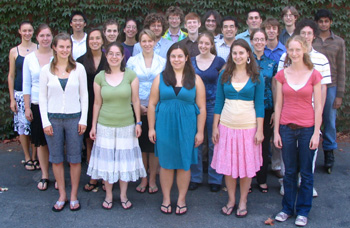 A Winter Holiday Concert
CHARLES KAMM, conductor, Claremont Colleges Chamber Choir
TUESDAY, DECEMBER 2, 2008
Please join the Athenaeum in welcoming the holiday season with a very special concert from the Claremont Chamber Choir. This promises to be an evening of good company, great food, and a wonderful performance. For those of you who love the holiday season or just like the gifts this will not be a night to miss!

The concert program will include movements from the Spanish renaissance composer Tomas Luis de Victoria's Mass written on the Christmas theme of the shepherds and their animals. The ensemble will also perform the Trois Chansons by Claude Debussy, and offer a selection of seasonal carols. The Claremont Chamber Choir is sponsored by the Joint Music Program and numbers 24 student singers representing all the colleges of the Claremont Consortium. It is directed by Charles W. Kamm, assistant professor of music at Scripps College.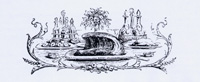 Madrigal Feast
This year the Madrigal Feast at CMC promises to be a continuation in what has been one of the college's longest and most enjoyable traditions. As we celebrate the 26th anniversary of the Madrigal Feast, the evening's entertainment will again be provided by student-run a cappella groups from the Claremont Colleges. The Claremont Shades, Midnight Echo, and Women's Blue and White will all be performing in conjunction with the traditional festivities, attire, and medieval cuisine that CMC students have come to know and love.

Reservations can be made through the Athenaeum office and are limited to CMC students, faculty, and staff. Seating is determined by the order in which payment is received, so groups of friends are encouraged to sign up at the same time in order to sit together. If you do wish to sit with a group, we ask that you turn in a list of all names and meal card numbers along with the reservation coupon and full payment.

Ticket prices are as follows:

CMC students with meal card $15.00 per person
CMC students without meal card $20.00 per person
CMC faculty and staff (limit two tickets per person) $30.00 per person

This year's Madrigal Feast will occur over two nights: Thursday, December 4 and Friday, December 5. Seating will begin at 6:00 p.m., and the program will last from 6:30 p.m. to around 9:00 p.m. Due to limited seating, we encourage you to sign up as soon as possible to ensure your place at the one and only Madrigal Feast!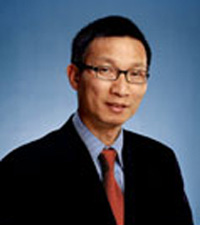 Why Has Economic Development Not Led to Democratization in China?
MINXIN PEI
TUESDAY, DECEMBER 9, 2008
LUNCH 11:30 a.m. LECTURE 12:00 p.m. Parents Dining Room
Minxin Pei's research focuses on democratization in developing countries, economic reform and governance in China, and U.S.-China relations as a Senior Associate in the China Program at the Carnegie Endowment of International Peace.
He received his B.A. in English from Shanghai International Studies University, Master of Fine Arts in creative writing from the University of Pittsburgh, and his Ph.D. in political science from Harvard University. Dr. Pei taught at Harvard, Princeton, Davidson College, University of Pittsburgh, and Shanghai International Studies University. His most recent publication is China's Trapped Transition: The Limits of Developmental Autocracy (2006).

Please join us for Dr. Pei's luncheon lecture which is sponsored by the Keck Center for International and Strategic Studies.

Reservations may be made online at www.claremontmckenna.edu/mmca

Reservations are not required to attend the presentation only (12:00 p.m.)
The Role of Intellectuals and Think-Tanks in Chinese Foreign Policy Making
QUANSHENG ZHAO
WEDNESDAY, DECEMBER 10, 2008
LUNCHEON AND LECTURE 12:00 p.m. Parents Dining Room
Quansheng Zhao is a Professor and Division Director at the School of International Service at American University in Washington D.C.

Zhao's research interests are in comparative politics and international relations with a focus on China, Japan, and Korea. He received his B.A. in International Politics from Peking University and his M.A. and Ph.D. in Political Science from the University of California, Berkeley. Dr. Zhao taught at American University, Harvard, Peking University, Tsinghua University (China), and Korea University.

His most recent publications are Managing the China Challenge: Perspectives from the Globe (forthcoming) and Globalization and East Asia (2007).

Please join us for Dr. Zhao's luncheon lecture, sponsored by the Keck Center for International and Strategic Studies.

Reservations may be made online at www.claremontmckenna.edu/mmca

Reservations are not required to attend the presentation only (12:00 p.m.)