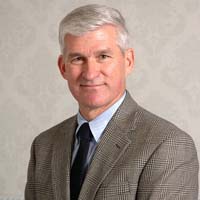 The Limits of American Power
ANDREW BACEVICH
TUESDAY, NOVEMBER 11, 2008
As the United States struggles to fight two wars and elects a new president, a debate on American foreign policy is more relevant and necessary than any other time in recent memory. Under what conditions should America use force? How do we end our involvement in Iraq and Afghanistan? To what degree can we influence events outside our borders?

Andrew Bacevich, professor of international relations at Boston University, will address these questions and others in his lecture. Dr. Bacevich is the author of The Limits of Power: American Exceptionalism (2008). His previous books include American Empire: The Realities and Consequences of U.S. Diplomacy (2002) and The New American Militarism: How Americans Are Seduced by War (2005). His essays and reviews have appeared in a wide variety of scholarly and general interest publications including The Wilson Quarterly, The National Interest, Foreign Affairs, Foreign Policy, The Nation, The American Conservative, and The New Republic. His op-eds have appeared in the New York Times, Washington Post, Wall Street Journal, Financial Times, Boston Globe, Los Angeles Times, and USA Today.

Dr. Bacevich is a graduate of West Point and received his Ph.D. in American Diplomatic History from Princeton University.

In observance of Veteran's Day honoring all military veterans the visit to campus by Andrew Bacevich is jointly sponsored by the Keck Center for International and Strategic Studies and the Athenaeum.