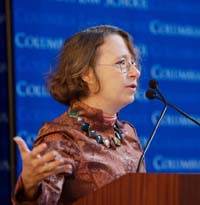 PHI BETA KAPPA VISITING SCHOLAR
International Courts and the U.S. Supreme Court: Who Has the Final Word?
LORI DAMROSCH
WEDNESDAY, NOVEMBER 12, 2008
LUNCH 11:30 a.m. LECTURE 12:00 p.m.
The Supreme Court and the Bush Administration have been weighing the importance of international law in domestic decisions. In one case, Medellin v. Texas, the treaty rights of a Mexican citizen, including the right to communicate with the Mexican consulate, were violated. The Bush Administration argued that the U.S. comply with a ruling from The Hague that death sentences be reviewed in the case of a breach, while Texas (and other states) contest that the President does not have the authority to intervene in such cases. Does the ruling from The Hague matter?

In her Athenaeum talk, Lori Damrosch, an expert on international law, will address this question and its implications. Damrosh joined the Columbia faculty in 1984 and is now Henry L. Moses Professor of Law and International Organization. Her principal areas of research are public international law and the U.S. law of foreign relations. She is the author or co-editor of International Law: Cases and Materials (2001), Enforcing International Law Through Non-Forcible Measures (1997), Beyond Confrontation: International Law for the Post-Cold War Era (1995), Enforcing Restraint: Collective Intervention in Internal Conflicts (1997), Law and Force in the New International Order (1992), and The International Court of Justice at a Crossroads (1987).

A member of the Council on Foreign Relations and of the State Department's advisory committee on international law, she has been a vice president and counselor of the American Society of International Law and was the organizer of its U.S.-Russian research project on international law. In 2003 she was appointed editor-in-chief of the American Journal of International Law.

Professor Damrosch is spending the day on the CMC campus under the auspices of the Phi Beta Kapp Visiting Scholars program.