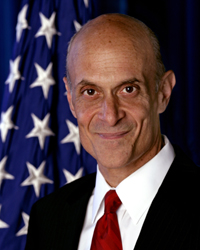 Conversation with the Secretary of Homeland Security
MICHAEL CHERTOFF
WEDNESDAY, NOVEMBER 12, 2008
On February 15, 2005, the United States Senate unanimously confirmed Michel Chertoff as the second Secretary of the Department of Homeland Security, the most recent addition to the President's Cabinet. He previously served as United States Circuit Judge for the Third Circuit Court of Appeals.

Secretary Chertoff was confirmed by the Senate in 2001 to serve as Assistant Attorney General for the Criminal Division at the Department of Justice. As Assistant Attorney General, he oversaw the investigation of the 9/11 terrorist attacks. He later co-authored the USA Patriot Act signed into law by President George W. Bush on October 26, 2001.

Prior to that, Secretary Chertoff spent more than a decade as a federal prosecutor including service as U.S. Attorney for the District of New Jersey, First Assistant U.S. Attorney for the District of New Jersey, and Assistant U.S. Attorney for the Southern District of New York working with Rudy Giuliani on a number of initiatives including the celebrated "Mafia Commission" case.

Before joining the George W. Bush Administration, Secretary Chertoff was a Partner in the law firm of Latham & Watkins. From 1995 to 1996, he served as Special Counsel for the U.S. Senate Whitewater Committee.

Secretary Chertoff graduated magna cum laude from Harvard College in 1975 and magna cum laude from Harvard Law School in 1978. He served as clerk to Supreme Court Justice William Brennan, Jr. from 1975 to 1980.

Secretary Chertoff's Athenaeum lecture is sponsored by the Res Publica Society of Claremont McKenna College.