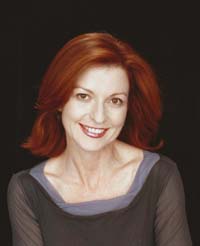 Fit to Print: Writing on Washington
MAUREEN DOWD
MONDAY, NOVEMBER 17, 2008
In one of her recent New York Times columns, Maureen Dowd wrote a screenplay entitled "The Maverick Wears Prada," about two female McCain staffers trying to contain the fallout of Vice-Presidential candidate Sarah Palin "going rogue."

Such satire is commonplace in Ms. Dowd's columns, which often contain witty, incisive and often acerbic commentary on American politics. Winner of the 1999 Pulitzer Prize for distinguished commentary, she has been a columnist at The New York Times since 1995, after having been a correspondent at the Washington bureau of the paper for nine years. She also wrote a column, "On Washington", for The New York Times Magazine. She began her career in 1974 as an editorial assistant for The Washington Star, where she later became a sports columnist, metropolitan reporter and feature writer. When the Star closed in 1981, she went to Time magazine, prior to joining The New York Times in 1983. She is the author of Are Men Necessary: When Sexes Collide (2005) and Bushworld: Enter at Your Own Risk (2005).

A native of Washington, D.C. she received her B.A. in English literature from Catholic University in 1973.

Ms. Dowd's visit to CMC is jointly sponsored by the Office of the President and the Athenaeum.