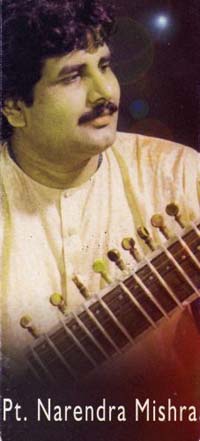 Peace and Excitement: A Sitar Concert
NARENDRA MISHRA, sitar
ABHIMAN KAUSHAL, tabla
NANDINI MAJUMDAR '10, tanpura
WEDNESDAY, NOVEMBER 19, 2008
Narendra Mishra comes from a venerable family of musicians in Varanasi, India. He gave his first concert at the age of ten. He has played all over India since and been honoured with awards. He has played in Europe and has an ardent fan following in Britain and Switzerland. This will be his first concert in the USA.

Narendra Mishra will play Hindustani or North Indian classical music through the four stages of a sitar concert: the alap or sensuous introduction that explores the ambience of a chosen raga; the jor or allegro; the gata or composed lyrical piece with a rhythmic accompaniment; and the jhala or virtuoso demonstration of a fast tempo.

Narendra Mishra began his sitar training with his father Pandit Mannu Lal Mishra and completed it under the sitar maestro Ustad Vilayat Khan. This training has been completely in the Indian classical music system of guru-shishya teaching, or one-to-one master-pupil training within a certain style called a gharana or school.

He will be accompanied on the tabla, the North Indian classical double drums, by Abhiman Kaushal. Kaushal, who teaches at UCLA, has accompanied renowned artists, and has performed extensively. Nandini Majumadar '10 will also provide accompaniment with the tanpura, a four stringed instrument used to create background harmony.
This concert commemorates the new period dawning in the USA, hopefully of peace and definitely of excitement! The combination of excitement and peace is the defining feature of Indian classical music, and equally, is true of India today.

The concert at 6:45 p.m. is free and open to all. For dinner reservations please fill out your reservation on the Athenaeum website http://www.claremontmckenna.edu/mmca/cur_reserve.php. CGU students will need to pay $10.00 for their dinner.