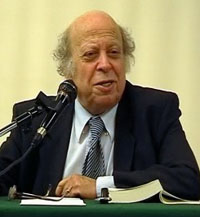 Rediscovering the Passions in International Relations: History, Philosophy, and the Contemporary World
General Overview: Fear, Pride, and Greed in Thucydides and Today
PIERRE HASSNER
WEDNESDAY, FEBRUARY 4, 2009
Studies and writings about international relations have tended to emphasize the structures of power, military forces, and economic interests. The central idea of Pierre Hassner's series of Podlich Distinguished Lectures is that a full understanding of what goes on internationally must reexamine the human passions that are at work. Without minimizing the importance of the other factors, Hassner will seek to analyze the passions and their dialectical development in response to each other and to changing political, ideological and technological environments. He will conduct this inquiry through the examination of several different historical circumstances, competing philosophical interpretations, and particular features of our contemporary world.

In this first lecture, "General Overview: Fear, Pride, and Greed in Thucydides and Today," Hassner will present the central idea and overall scope of the lecture series as a whole and then turn to an examination of Thucydides' classic analysis of the basic passions involved in the conduct of international affairs. He will reflect on how adequate this understanding is in relation to later thinkers and historical periods, including our contemporary situation.

Subsequent lectures in this series will be "Taming the Passions: Projects of Modern Political Philosophy" (February 11, 4:15 p.m. in Bauer Forum); "Democratic and Totalitarian Passions in Modern Societies" (February 18 at the Athenaeum); and "Passions Unbound: Violence and Peace in Today's World" (February 25, 4:15 p.m. in Bauer Forum). A final session on Tuesday, March 3, at the Athenaeum will be a panel discussion on the subjects of the whole series among Pierre Hassner and several CMC professors.

Pierre Hassner, research director emeritus at the Centre d'Etudes et de Recherches Internationales in Paris, taught for many years as professor of international relations at the Institut d'Etudes Politiques in Paris and as a senior visiting lecturer at the European Center of Johns Hopkins University in Bologna. Born in Romania, Mr. Hassner studied at the Sorbonne and the Ecole Normale Supérieure. His major writings have focused on war and peace, totalitarianism, ethics and international relations, and international order. Two of his books present selections from his numerous articles: La violence et la paix: De la bombe atomique au nettoyage ethnique (1995; an English translation, Violence and Peace: From the Atomic Bomb to Ethnic Cleansing, appeared in 1997). La terreur et l'empire: Violence et Paix II (2003) has not yet been translated. His most recent co-edited book, Justifier la guerre? De l'humanitaire au contre-terrorisme (2005) has just appeared in English as Justifying War?: From Humanitarian Intervention to Counterterrorism.

It is a pleasure to have Pierre Hassner take part in the 2008-2009 William F. Podlich Distinguished Visitors Program. This program was generously endowed by CMC alumnus and trustee William F. Podlich '66, whose aim is to enrich the college intellectually by bringing preeminent figures in scholarship, business, and public affairs to campus for extended visits.