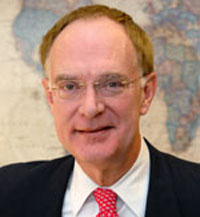 American Conservatism in the Age of Obama
CHRISTOPHER DEMUTH
THURSDAY, FEBRUARY 5, 2009
LUNCH 11:30 a.m. LECTURE 12:00 p.m.
Christopher DeMuth is one of our county's most important public intellectuals. He was president of the American Enterprise Institute, the country's leading conservative public policy institute, from 1986 until the end of this year. During the Reagan administration he was administrator for information and regulatory affairs in the U.S. Office of Management and Budget, and executive director of the Presidential Task Force on Regulatory Relief He has taught economics, law, and regulatory policy at the John F. Kennedy School of Government at Harvard University, practiced regulatory and antitrust law, and written issues of regulation, religion, and neo-conservatism.

Mr. DeMuth's Athenaeum lecture is sponsored by the Salvatori Center for the Study of Individual Freedom in the Modern World at Claremont McKenna College.