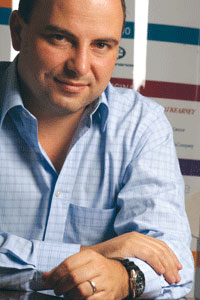 Growing Emerging Economies through High-Impact Entrepreneurship: The Case of Mexico
FERNANDO FABRE
THURSDAY, FEBRUARY 5, 2009
Why are there so few entrepreneurs in emerging economies? Can entire countries be transformed by a few high-impact entrepreneurs? Fernando Fabre, Director for Mexico of the international not-for-profit organization, and a professor of management at Anahuac University in Mexico City, will review the evidence and address these questions in his Athenaeum address. High-impact entrepreneurs are those with the biggest ideas and most ambitious plans for scalable, high-growth businesses. They are expected to create companies that employ hundreds - even thousands - of people and generate millions in wages and revenue, encouraging social mobility. They have the potential to develop innovations that transform industries and communities.
Endeavor is a not-for-profit organization, financially supported by social entrepreneurs and public entities. Its approach is to identify and provide venture capital to high-impact entrepreneurs with the potential to inspire others in their communities to start businesses. This "multiplier effect" is expected to inspire a culture of entrepreneurship and generate additional value-added jobs.
Fernando Fabre is the Managing Director of Endeavor Mexico and professor of entrepreneurship at Anahuac University. He has been appointed by the Partnership for Prosperity Program in conjunction with the Mexican government to develop guidelines to build an entrepreneurial culture in Mexico. He currently serves on the board of directors of Lumni Inc (student lending program); on the investment committee of Ingenia Capital Partners (a venture capital fund) and as an advisory board member of Imagen Dental SRL (health), Alibio SRL (biotech) and Urman SA de CV (consumer goods). He is a current member of the editorial board of El Economista and Grupo Editorial Expansion, and is a biweekly columnist at El Economista newspaper on entrepreneurial affairs. He holds a master degree in economics from Claremont Graduate University in California and an MBA and B.A. in Managerial Economics from Universidad Anahuac del Sur. In 2003 the magazine Lideres Mexicanos called him a "Leader of the Future"; in 2005 the magazine. Fortuna called him the "Top Entrepreneur Supporter in Mexico"; and in 2007 the magazine Expansion identified him as one of the "30 under 30" Mexican leaders.
Professor Fabre's visit to campus is sponsored by the Robert Day School of Economics and Finance at Claremont McKenna College.