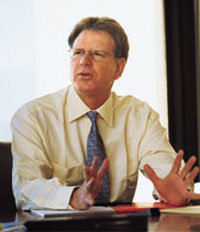 Robert Day School Distinguished Speaker Series
Lunch with a Leader: The Mutual Fund Industry
GREGG IRELAND '72
FRIDAY, JANUARY 30, 2009
LUNCH 11:30 a.m. LECTURE 12:00 p.m.
Gregg Ireland is a Senior Vice President of Capital World Investors, a division of Capital Research and Management Company, the investment adviser for the American Funds. With over $900 billion in assets under management, The American Funds is one of the three largest mutual fund managers in the world. Gregg is a Vice Chairman of the global flagship New Perspective Fund and a Senior VP of Growth Fund of America, as well as a past Senior VP of Capital World Growth & Income Fund and The Investment Company of America.

Gregg serves as a portfolio counselor for several funds in the American Funds family, including New Perspective, $35 billion in assets, and Growth Fund of America, over $100 billion in assets. Joining Capital in 1972, Gregg was Capital's senior research analyst for the global capital goods industry and the energy sector before moving over to manage global equity portfolios in the 1980s.

During his Athenaeum talk, Gregg will describe his experience working for one of the largest equity mutual fund managers in the world. Although Capital does no advertising and keeps a relatively low profile, they are as large as Fidelity and Vanguard and have a unique approach to investing. Investors at Capital spend their time researching companies, looking for strengths and trends, and invest for the long-term with low turnover of their portfolios. Gregg's focus is on the global/worldwide markets and he will explain how Capital effectively uses a fundamental, value-oriented, long-term approach to investing. Gregg will also share his thoughts on the numerous bear markets that he has lived through since starting at Capital in 1972 while focusing on the current market.

Gregg holds a bachelor's degree, summa cum laude, from Claremont McKenna College and an M.B.A. from Harvard Graduate School of Business Administration.

Gregg serves on a number of nonprofit boards focusing primarily on higher education and special needs causes. He serves on the Board of Advisors of the Financial Economics Institute at Claremont McKenna College. Originally from California, Gregg lives in Chapel Hill, North Carolina, with his wife and family. He has four children.