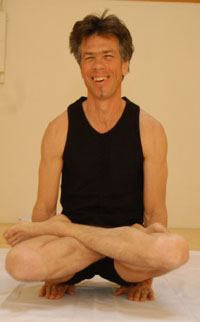 11th Annual L.J. Kutten Lecture in Philosophy and Religion
Yoga Before the Yoga Sutras, or, What Does Sitting Cross-legged Have to do with the History of Yoga?
DAVID WHITE
MONDAY, FEBRUARY 2, 2009
In 1999 CMC alumnus L. J. Kutten '74 endowed a lectureship in philosophy and religion to bring to campus scholars from traditions outside the mainstream of western religions. This year, the L. J. Kutten lecture will feature a lecture by professor David Gordon White.

India is often considered to be a land of timeless traditions that have remained unchanged since their origins in a distant and mythic past. One such tradition is yoga, which most historians have assumed — on the basis of mentions of the term in the Vedas and a clay seal of a cross-legged figure on a clay seal from an Indus Valley archaeological site — to date from approximately 2000 BCE. However, the referents of words change over time, and a careful juxtaposition of images with texts from the ancient period reveals that the earliest practice of "yoga" had nothing to do with the later synthesis of controlled postures, breath control, and meditation that came to be identified as "classical yoga." In his lecture, Professor David White will reconstruct South Asia's most ancient yoga traditions and speak to their unexpected legacy in modern times.

David Gordon White received his Ph.D. (with Honors) from the Divinity School at the University of Chicago in 1988. He also studied Hinduism at the École Pratique des Hautes Études in Paris, France. A specialist of South Asian religions, White is a now professor in the Department of Religious Studies at the University of California, Santa Barbara.

White is the author of three books, all published by the University of Chicago Press: Myths of the Dog-Man (1991, listed as one of the "Books of the Year" in the 1991 Times Literary Supplement's end-of-year edition); The Alchemical Body: Siddha Traditions in Medieval India (1996); and Kiss of the Yogini: " Tantric Sex" in its South Asian Contexts (2003, featured on the cover of the Times Literary Supplement May 2004 edition). His latest book, Sinister Yogis, is forthcoming in September 2009. He also edited Tantra in Practice (2000), and his introduction to that volume is considered to be the most comprehensive definition of the multi-faceted tradition known as Tantra published to date.

White is also the author of approximately seventy other articles, chapters, and encyclopedia entries. Certain of these, including "Why Gurus Are Heavy," on the relationship between Indian yoga and alchemy; "Dogs Die," on the relationship between the ancient Indian game of dice and the ritual slaughter of a "four-eyed dog" in ancient India; and "Transformations in the Art of Love: Kamakala Practices in Hindu Tantric and Kaula Traditions," on the consumption of sexual fluids in so-called "Tantric sex," are considered to be classics in the field. Taken in their ensemble, White's many publications have rewritten the history of medieval South Asian religion, effecting a paradigm shift in scholarship in the field.
He has been the recipient of several research fellowships and grants, including a John Simon Guggenheim Foundation Fellowship (2007-2008) and three Fulbright Research Fellowships for India and Nepal.