Athenaeum Location
Print Newsletter
February 9, 2009
Vol. 24, No. 06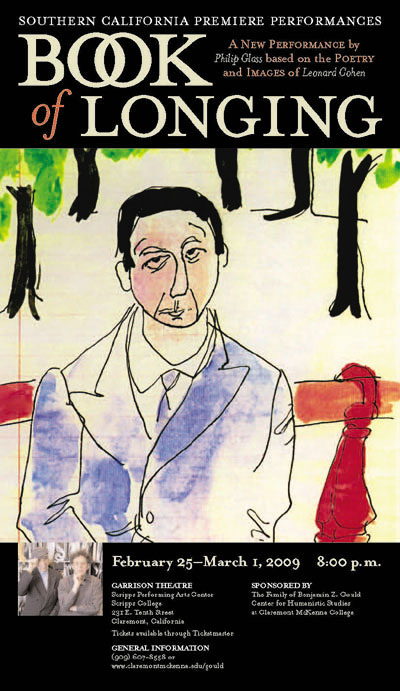 Drawn from the Heart
Leonard Cohen Artwork Exhibition
Opens Monday, February 9, 2009
The Gould Center and Marian Miner Cook Athenaeum are pleased to present "Drawn from the Heart," an exhibition of artwork from world-renowned artist, poet, and songwriter Leonard Cohen's private collection.

Leonard Cohen is widely regarded as one of the most influential artists of our time. In addition to his internationally recognized music and poetry, Cohen's artwork is taking center stage through the production of Book of Longing (2006), a concert work by world-renowned Philip Glass based on the poetry and artwork of Cohen's recently published book of the same name. Performances of Book of Longing are scheduled from February 25-March 1, 2009, at Garrison Theater, Scripps Performing Arts Center. Tickets are available through Ticketmaster.

Spanning over 40 years, this collection highlights selected art from the drawings and journals of Cohen and reflects his life-long love of drawing. All images are produced with permanent pigmented ink on 300 lb. Arches watercolor paper, finished with a hand-deckled edge. For each print, Cohen has signed, titled, numbered and dated, and embossed and stamped with his official seal.

Cohen is a Canadian born poet, novelist, and song-writer. In addition to his music, Cohen's collections of poetry, including Let Us Compare Mythologies (1956), and Flowers for Hitler (1964), and his novels, including Beautiful Losers (1966), have brought him international recognition. His dual interests in music and literature have produced notable works, including the albums Various Positions (1984), I'm Your Man (1988), The Future (1992), Dear Heather (2004), and Blue Alert (2006). His songs, including "Suzanne," Hallelujah," and "Bird on a Wire," have been covered by hundreds of artists including Bob Dylan, Willie Nelson, and k.d. Lang. In recognition of his remarkable work, Cohen was inducted into both the Canadian Music Hall of Fame and the Canadian Songwriters Hall of Fame. He also is a Companion of the Order of Canada, that nation's highest civilian honor. In March 2008, Cohen was inducted into the American Rock and Roll Hall of Fame.

The exhibition will open to the public on Monday, February 9 and can be viewed from 8:30 a.m. to 4:00 p.m., Monday-Friday at the Marian Miner Cook Athenaeum, 385 E. Eighth Street, Claremont, Calif. The Athenaeum may be closed to the public on holidays and for scheduled events. For more information about viewing times, please call (909) 621-8244.

The exhibition is sponsored by the Family of Benjamin Z. Gould Center for Humanistic Studies and the Marian Miner Cook Athenaeum at Claremont McKenna College.

For more information about the Book of Longing performances, please visit www.claremontmckenna.edu/gould.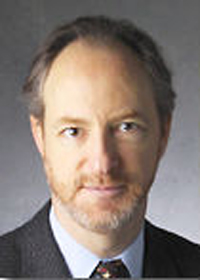 Rousseau and the Modern Cult of Sincerity
ARTHUR MELZER
MONDAY, FEBRUARY 9, 2009
Arthur Melzer is primarily interested in studying the cultural discontents that modern liberal democratic capitalism has generated and the counter-ideals spawned by those discontents. His research has focused largely on Jean-Jacques Rousseau, the father of almost all modern culture criticism and the originator of such counter-cultural ideals as Romanticism, bohemianism, sincerity or authenticity, secular compassion, and historical relativism. Professor Melzer also has a strong interest in the ethical writings of Aristotle.

Arthur Melzer is a professor in the Department of Political Science at Michigan State University. He is also a co-founder and co-director of the Symposium on Science, Reason, and Modern Democracy, an independent research center, housed in the Political Science Department, which is dedicated to the study of the theory and practice of modern democracy.
He received his B.A. from Cornell University in 1971 and his Ph.D. from Harvard University in 1978. He is the author of The Natural Goodness of Man: On the System of Rousseau's Thought (1990), and is the co-editor of eight volumes of essays on political philosophy. He has been awarded research fellowships by the Mellon Foundation, the Institute for Educational Affairs, the Earhart Foundation, and the National Endowment for the Humanities. He is a winner of the MSU Social Science Alumni Outstanding Teaching Award.

Professor Melzer's Athenaeum lecture is part of the series "Self and Society" and sponsored by the Dean of Faculty at CMC.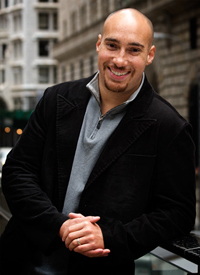 Book of Rhymes: The Poetics of Hip Hop
ADAM BRADLEY
TUESDAY, FEBRUARY 10, 2009
"I felt that for all the ways that hip-hop has shaped our culture over the past thirty years, we often overlook the transformative influence it's had on the language arts. You have major media outlets like CNN asking "Hip-hop: Art or Poison?" as if it's an open question. I mean, the level of ignorance is staggering. So part of my motivation was to help illuminate the art of MC-ing for a wide audience."

-Adam Bradley "Hip-Hop as New Dead Poets Society: A Discussion with Adam Bradley," by Marcus Reeves, Anarchist Graffiti, January 5, 2009.

Professor Adam Bradley is the co-editor of Ralph Ellison's Three Days Before the Shooting. . ., the forthcoming Modern Library edition of Ellison's unfinished second novel, along with Ellison's literary executor, John Callahan. At nearly 1,200 pages, this new edition goes beyond Juneteenth, the small portion published in 1999, by bringing together over forty years of Ellison's work on the novel. Bradley's own critical study of Ellison's fiction, Ralph Ellison-in-Progress, will be published in Fall 2009 by Yale University Press.
Bradley is extending his efforts to help define the emerging field of hip hop poetics. Book of Rhymes: The Poetics of Hip Hop (Basic Civitas, March 2009) offers a guided-tour of rap's poetry, from the sing-song rhymes of the Sugar Hill Gang to the clever wordplay of Biggie and the dusted metaphors of Lil Wayne. Bradley is also the co-editor, with Andrew DuBois of the University of Toronto at Scarborough, of the highly-anticipated Yale Anthology of Rap, the first book to bring together the greatest rap lyrics of all time, giving them the respect they deserve as poetry. His commentary has also appeared in the Washington Post and the New York Times as well as on NPR and C-SPAN.

Bradley earned his B.A. at Lewis & Clark College in Portland, Oregon, where he began working on Ralph Ellison's papers as a nineteen year-old assistant to Ellison's literary executor. He earned his Ph.D. in English from Harvard University, studying with Henry Louis Gates, Jr. and Cornel West. He is currently an associate professor of Literature at Claremont McKenna College.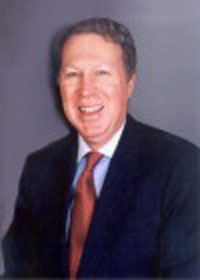 Prospects for Peace in Relations Across the Taiwan Strait
RAYMOND BURGHARDT
WEDNESDAY, FEBRUARY 11, 2009
LUNCH 11:30 a.m. LECTURE 12:00 p.m.
The Taiwan Strait has for decades been the most dangerous potential flashpoint in the East Asia region, the one issue that could result in conflict between the United States and China. Relations between Taiwan and Mainland China have improved markedly since the inauguration last May of Taiwan's new President, Ma Ying-jeou. But the tough political issues between the two sides have still not been addressed and Beijing recently reacted angrily when Washington approved a $6.5 billion arms sale to Taiwan. For the Obama Administration — like all its predecessors since that of Richard Nixon — the Taiwan issue will be the most sensitive aspect of Sino-U.S. relations.

Ambassador Raymond Burghardt has been a key figure in the U.S. Government's management of relations with Taiwan during much of the past ten years, first as our "de facto ambassador" in Taipei and now as head of the Washington office responsible for this very unusual "unofficial relationship." He will discuss "Prospects for Peace in Relations Across the Taiwan Strait." Ambassador Burghardt will also be prepared to draw on his extensive experience throughout East and Southeast Asia to answer questions on the broader subject of future U.S.-China and U.S.-Asia relations. He served as political counselor in Beijing, Deputy Chief of Mission in Seoul and Manila, Consul General in Shanghai, and Ambassador to Vietnam.

The Keck Center for International and Strategic Studies at CMC is honored to sponsor Ambassador Burghardt as a Freeman Foundation Visitor of Asian Affairs.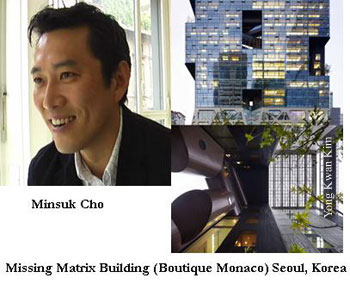 Mass Studies
MINSUK CHO
WEDNESDAY, FEBRUARY 11, 2009
Since the 1990s, architectural trends and discourses in South Korea have played prominent roles in shaping the larger global discussion on modern architecture and moving it into new directions. Stretching from South Korea to parts of United States, China, Europe and South America, buildings designed by architects from Korea have transformed places into ideal spaces for the unfolding of new forms of individual subjectivity and new social possibilities. One of the leading representatives of this class of Korean architects, Minsuk Cho, according to one article describing his works in Korea, "is an architect whose work challenges concepts of territory, typology, programme and representation in the region and in doing so, reveals the most radical form of public space." Cho has also been described as "an architect of the contemporary global vernacular" and is "probably the most well known Korean architect on the current international scene."
Trained at the Graduate School of Architecture at Columbia University, New York, Cho worked at Kolatan/MacDonald Studio, Polshek and Partners and the Office for Metropolitan Architecture (OMA). In 1998, with James Slade, he established Cho Slade Architecture in New York City. In 2003, Cho returned to Korea to found and become the principal architect of Mass Studies, which seeks "a critical investigation of architecture in the context of mass production, intensely over-populated urban conditions and other emergent cultural niches that define contemporary society."

Cho has received many awards, including the first prize in the 1994 Shinkenchiku International Residential Architecture Competition for new dwelling design, two U.S. Progressive Architecture Awards and the Silver Award of the Emporis Skyscraper Award 2008 for its design of "Boutique Monaco." His representative works include "Pixel House," "Dalki Theme Park," "Boutique Monaco," "Seoul Commune 2026," " Ann Demeulemeester Shop," "Xi Gallery," "Ring Dome-Yokahama Triennale, Milan and Kitakyushu," and "Air Forest." Recently, Mass Studies was announced the winner of the competition to design the Korean Pavilion for the World Expo Shanghai 2010.

Minsuk Cho's visit is generously supported by the Athenaeum, Luce Fund in the CMC Department of History, the Roberts Environmental Center and the Keck Center for International and Strategic Studies.

Please contact Albert Park (albert.park@cmc.edu) or the Athenaeum (909-621-8245) for more information.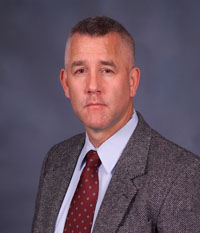 Working with Military Partners: Lessons from the U.S. Central Command Area of Responsibility
DAVID DAWSON
THURSDAY, FEBRUARY 12, 2009
LUNCH 11:30 a.m., LECTURE 12:00 p.m.
David A. (Scotty) Dawson joined U.S. Central Command as a mobilized reservist in August 2004, and was assigned to the Commander's Advisory Group, where he served as Deputy Director and Senior Analyst. He became the Command Historian in July 2007. Upon his release from active duty he was appointed as the Command Historian in the civil service.

Dawson's Athenaeum talk will focus on Operation Restore Hope (Somalia) and Operation Iraqi Freedom (OIF)/Operation Enduring Freedom (OEF), as he discusses lessons in working with coalition partners and in building military institutions. His visit to CMC is jointly sponsored by the Department of Military Science and Leadership at CMC and The Athenaeum.

Mr. Dawson grew up in St. Andrews, Scotland, and received a B.A. in history from Cornell University, an M.A. in history form Kansas State University, and A.B.D. in military history from Ohio State University. He was commissioned in the Marine Corps from the NROTC program in 1985. An infantry officer, he has held a variety of operational and training assignments on active duty and in the Reserves. Notable assignments include Command Historian, U.S. Marine Forces Somalia during Operation Restore Hope; Officer-in-Charge, Reserve Primary Marksmanship Instructor's Course; and Commanding Officer, Marine Forces West Africa Training Cruise 2003. He was a member of the Marine Corps Reserve Rifle Team and a firing member of the winning Critchfield Trophy (1,000 yard service rifle) team in 1998. His military awards include the Defense Meritorious Service Medal, the Combat Action Ribbon, and the Distinguished Marksman Badge.

Prior to joining U.S. Central Command he spent six months in Mosul and Basrah as a recruiter for the Iraqi Army. In Basrah he was the Senior Recruiter and Site Chief responsible for all recruiting activities in Southern Iraq.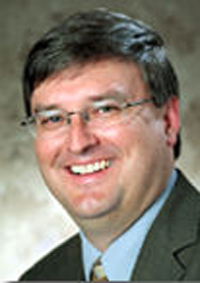 Every Honorable Device: The Democratic Statesmanship of Abraham Lincoln
STEVEN KAUTZ
THURSDAY, FEBRUARY 12, 2009
Abraham Lincoln is justly praised as among the greatest of those associated with the cause of popular government: Lincoln's greatness is the greatness of a democratic statesman. His task was to demonstrate, what many sober observers then doubted, the capability of a people to govern themselves. The tragedy of American slavery and the horrors of the Civil War tested whether this nation, or any nation "conceived in Liberty, and dedicated to the proposition that all men are created equal," could long endure. On the occasion of the 200th anniversary of Lincoln's birth, Kautz examines Lincoln's democratic statesmanship, with guidance from Frederick Douglass' penetrating analysis of that statesmanship in his 1876 "Oration in Memory of Abraham Lincoln."
Kautz is associate professor and Director of Graduate Studies in the Department of Political Science at Michigan State University. He is the author of Liberalism and Community (1995). He is currently Executive Director of the Symposium on Science, Reason, & Modern Democracy at MSU, a center for research and debate on the theory and practice of modern democracy. Kautz writes and teaches on the political philosophy of liberalism, American political thought, and American and comparative constitutional law. He is currently working on a book on the political thought of Abraham Lincoln.

Steven Kautz's talk is co-sponsored by the Henry Salvatori Center for the Study on Individual Freedom in the Modern World and the Athenaeum.
The Recovery of 2009: Myth or Reality?
GREGORY HESS
MANFRED KEIL
MARC WEIDENMIER
S. BROCK BLOMBERG
THOMAS WILLETT
DARREN FILSON, moderator
MONDAY, FEBRUARY 16, 2009
On February 11, 2008, Professors Manfred Keil, Greg Hess, Marc Weidenmier, Brock Blomberg, and Tom Borcherding participated on a panel at the Athenaeum addressing the question: "The Recession of 2008: Myth or Reality?". Consensus was not reached, and since that time the National Bureau of Economic Research concluded that the U.S. has been in a recession since December 2007. One year later, the Athenaeum is again hosting a roundtable discussion to discuss: "The Recovery of 2009: Myth or Reality?". After a U.S. government bailout of $700 billion and possibly more to come, many are wondering if we have seen the worst or if the worst is yet to come.

Members of the panel include:
•Professor Manfred Keil, associate professor of economics at CMC and the chair of the economics department; chair of the faculty, Robert Day school of Economics and Finance.
•Dean Gregory Hess, Dean of the Faculty at CMC and Russell S. Bock Professor of Public Economics and Taxation.
•Professor Marc Weidenmier, William F. Podlich '66 Associate Professor of Economics at CMC and Director of the Lowe Institute.
•Professor S. Brock Blomberg, Peter K. Barker Professor of Economics at CMC.
•Professor Thomas Willett, Horton Professor of Economics at CMC and Claremont Graduate University (CGU) and Dean of the School of Politics and Economics at CGU.

This panel will be moderated by Professor Darren Filson, associate professor of economics at CMC and director of graduate programs.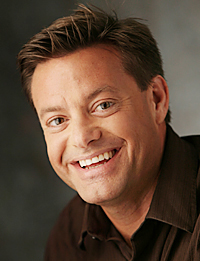 Rationalizing Terrorism
S. BROCK BLOMBERG
TUESDAY, FEBRUARY 17, 2009
Why do terrorists attack and what are the economic consequences of such attacks? Are terrorists rational especially when one considers the behavior of suicide bombers? If so, what can we learn about terrorism and what can we expect in the future especially as the new administration takes office? If not, is terrorism evolutionary and can we do anything about it? And finally, does or should economics have anything to say about this? These questions and more will be explored in Professor S. Brock Blomberg's Athenaeum lecture that falls in the tradition of freakonomics.

Professor S. Brock Blomberg is the Peter K. Barker '70 Professor at Claremont McKenna College with appointments in the economics department and the politics, philosophy, and economics (PPE) program. Professor Blomberg has taught courses in macroeconomics, microeconomics, international economics, econometrics, statistics and political economy. His research interests are grounded in macroeconomics, international economics, political economy and are focused on terrorism. Professor Blomberg has written extensively on the economics of terrorism in journals, books, and newspapers.

Over the past 14 years, he has published 34 articles and book chapters in such top economics journals as the American Economic Review, Journal of Monetary Economics, Journal of International Economics, Journal of Public Economics and the Review of Economics and Statistics. Professor Blomberg has held appointments on the president's Council of Economic Advisors, the Federal Reserve Bank of New York, the Federal Reserve Board of Governors, the International Monetary Fund and World Bank, Harvard University and Wellesley College. He also served in the United States Military for eight years and been the United States representative to the Economic Committee for Asian Pacific Economic Cooperation (APEC). Professor Blomberg received his B.A. from the University of Tampa and received his Ph.D. from Johns Hopkins University.

This evening's lecture is the occasion for the installation of S. Brock Blomberg as the Peter K. Barker '70 Professor of Economics.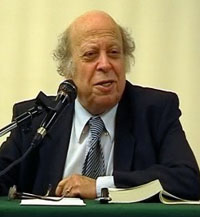 Democratic and Totalitarian Passions in Modern Societies
PIERRE HASSNER
WEDNESDAY, FEBRUARY 18, 2009
Pierre's Hassner's third lecture at Claremont McKenna College and the second at the Athenaeum is entitled "Democratic and Totalitarian Passions in Modern Societies." Political thinkers including Herodotus, Thucydides, and Plato have been interested in how different political orders reflect and cultivate different human passions, characters, and characteristic ways of acting. In the twentieth century, the most dramatic difference in political regimes was the contrast between democracy and totalitarianism. Hassner will explore how these two dissimilar types of political orders foster different kinds of politically relevant passions. While reflecting on their qualities and consequences for each regime's domestic order, Hassner will emphasize their consequences for the regime's purposes in the international arena and conduct of foreign policy.

Pierre Hassner, research director emeritus at the Centre d'Etudes et de Recherches Internationales in Paris, taught for many years as professor of international relations at the Institut d'Etudes Politiques in Paris and as a senior visiting lecturer at the European Center of Johns Hopkins University in Bologna. Born in Romania, Mr. Hassner studied at the Sorbonne and the Ecole Normale Supérieure. His major writings have focused on war and peace, totalitarianism, ethics and international relations, and international order. Two of his books present selections from his numerous articles: La violence et la paix: De la bombe atomique au nettoyage ethnique (1995; an English translation, Violence and Peace: From the Atomic Bomb to Ethnic Cleansing, appeared in 1997). La terreur et l'empire: Violence et Paix II (2003) has not yet been translated. His most recent co-edited book, Justifier la guerre? De l'humanitaire au contre-terrorisme (2005) has just appeared in English as Justifying War?: From Humanitarian Intervention to Counterterrorism.

It is a pleasure to have Pierre Hassner take part in the 2008-2009 William F. Podlich Distinguished Visitors Program. This program was generously endowed by CMC alumnus and trustee William F. Podlich '66, whose aim is to enrich the college intellectually by bringing preeminent figures in scholarship, business, and public affairs to campus for extended visits.

As a note Mr. Hassner's second lecture will take place on February 11, 4:15 p.m.-5:30 p.m. in Bauer Forum. This second lecture is entitled: "Taming the Passions: Projects of Modern Political Philosophy."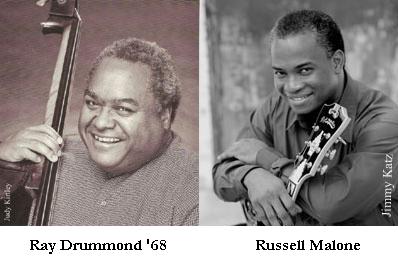 An Evening of Jazz
RAY DRUMMOND '68, bass
RUSSELL MALONE, guitar
THURSDAY, FEBRUARY 19, 2009
Ray Drummond '68 will be returning to the Athenaeum with "An Evening of Jazz" with guitarist Russell Malone. He is an internationally acclaimed bassist and composer and is a frequent guest of the Athenaeum, last performing in 2005. This concert is dedicated to the memory of Professor Ron Teeples (1936-2008) professor of economics, whose love of jazz brought many distinguished musicians to CMC.
Ray Drummond '68 served as student body president and cofounded the "Jazz Society" with fellow student musicians and jazz enthusiasts while an undergraduate student in Claremont. After graduation Drummond worked as a business executive by day while moonlighting as a jazz musician until he realized that the second career was his true calling. Today he is an internationally acclaimed bassist, composer, and recording artist who has performed with various artists including Dizzy Gillespie, Wynton Marsalis, Betty Carter, Woody Shaw, and Art Farmer, to name a few. Drummond's musical talents can be heard on over 400 jazz albums yet he still has found time to conduct, produce, and instruct jazz all over the world. He retired last year as Assistant Professor at the Institute for Music and the Performing Arts at California State University Monterey Bay. He currently is a Faculty Member of The Juilliard School in New York City.

In his late teens, Russell Malone started making his way to the music clubs in Albany, Georgia, to get some playing time and to develop what is now his signature sound on guitar. He started making a name for himself as he moved to Houston, Atlanta and ultimately to New York City. One of his most pivotal career-shaping experiences was sitting in with the late, great organist Jimmy Smith in Atlanta and eventually joining his band in the late 1980s.

After hearing Malone play in Harry Connick's band, former Sony head, Tommy Mottola, brought Malone over to Columbia. Malone's self-titled debut in 1992 quickly went to #1 on the radio charts and was followed by Black Butterfly (1993). Verve Records came calling next and released three albums by Malone: Sweet Georgia Peach (1998), Look Who's Here (2000) and Heartstrings (2001). Malone launched the strings series for MAXJAZZ with his label debut Playground (April, 2004).

Other career and musical influences include fellow guitarists Wes Montgomery, Charlie Christian, Bucky Pizzarelli, and John Collins and vocal artists Sam Cooke, the Dixie Hummingbirds and Freddy Cole. Malone has played with a wide range of musicians from different music idioms. In addition to those previously mentioned, Malone has played with such artists as: BB King, Diana Krall, Hank Jones, Christina Aguilera, Patti Austin, Little Anthony, Regina Belle, Natalie Cole, Peabo Bryson, the Winans, Kenny Burrell, Ray Brown, Ron Carter, Dianne Reeves, Roy Hargrove, Clarence Carter, George Benson and Bobby Hutcherson. Malone starred in Robert Altman's 1996 movie Kansas City.