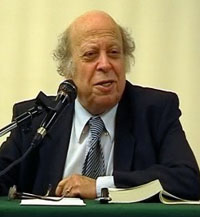 Democratic and Totalitarian Passions in Modern Societies
PIERRE HASSNER
WEDNESDAY, FEBRUARY 18, 2009
Pierre's Hassner's third lecture at Claremont McKenna College and the second at the Athenaeum is entitled "Democratic and Totalitarian Passions in Modern Societies." Political thinkers including Herodotus, Thucydides, and Plato have been interested in how different political orders reflect and cultivate different human passions, characters, and characteristic ways of acting. In the twentieth century, the most dramatic difference in political regimes was the contrast between democracy and totalitarianism. Hassner will explore how these two dissimilar types of political orders foster different kinds of politically relevant passions. While reflecting on their qualities and consequences for each regime's domestic order, Hassner will emphasize their consequences for the regime's purposes in the international arena and conduct of foreign policy.

Pierre Hassner, research director emeritus at the Centre d'Etudes et de Recherches Internationales in Paris, taught for many years as professor of international relations at the Institut d'Etudes Politiques in Paris and as a senior visiting lecturer at the European Center of Johns Hopkins University in Bologna. Born in Romania, Mr. Hassner studied at the Sorbonne and the Ecole Normale Supérieure. His major writings have focused on war and peace, totalitarianism, ethics and international relations, and international order. Two of his books present selections from his numerous articles: La violence et la paix: De la bombe atomique au nettoyage ethnique (1995; an English translation, Violence and Peace: From the Atomic Bomb to Ethnic Cleansing, appeared in 1997). La terreur et l'empire: Violence et Paix II (2003) has not yet been translated. His most recent co-edited book, Justifier la guerre? De l'humanitaire au contre-terrorisme (2005) has just appeared in English as Justifying War?: From Humanitarian Intervention to Counterterrorism.

It is a pleasure to have Pierre Hassner take part in the 2008-2009 William F. Podlich Distinguished Visitors Program. This program was generously endowed by CMC alumnus and trustee William F. Podlich '66, whose aim is to enrich the college intellectually by bringing preeminent figures in scholarship, business, and public affairs to campus for extended visits.

As a note Mr. Hassner's second lecture will take place on February 11, 4:15 p.m.-5:30 p.m. in Bauer Forum. This second lecture is entitled: "Taming the Passions: Projects of Modern Political Philosophy."