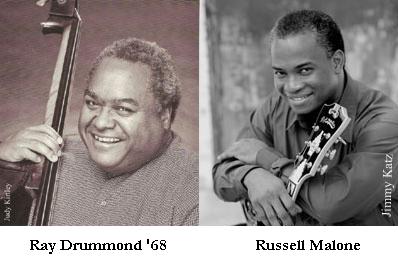 An Evening of Jazz
RAY DRUMMOND '68, bass
RUSSELL MALONE, guitar
THURSDAY, FEBRUARY 19, 2009
Ray Drummond '68 will be returning to the Athenaeum with "An Evening of Jazz" with guitarist Russell Malone. He is an internationally acclaimed bassist and composer and is a frequent guest of the Athenaeum, last performing in 2005. This concert is dedicated to the memory of Professor Ron Teeples (1936-2008) professor of economics, whose love of jazz brought many distinguished musicians to CMC.
Ray Drummond '68 served as student body president and cofounded the "Jazz Society" with fellow student musicians and jazz enthusiasts while an undergraduate student in Claremont. After graduation Drummond worked as a business executive by day while moonlighting as a jazz musician until he realized that the second career was his true calling. Today he is an internationally acclaimed bassist, composer, and recording artist who has performed with various artists including Dizzy Gillespie, Wynton Marsalis, Betty Carter, Woody Shaw, and Art Farmer, to name a few. Drummond's musical talents can be heard on over 400 jazz albums yet he still has found time to conduct, produce, and instruct jazz all over the world. He retired last year as Assistant Professor at the Institute for Music and the Performing Arts at California State University Monterey Bay. He currently is a Faculty Member of The Juilliard School in New York City.

In his late teens, Russell Malone started making his way to the music clubs in Albany, Georgia, to get some playing time and to develop what is now his signature sound on guitar. He started making a name for himself as he moved to Houston, Atlanta and ultimately to New York City. One of his most pivotal career-shaping experiences was sitting in with the late, great organist Jimmy Smith in Atlanta and eventually joining his band in the late 1980s.

After hearing Malone play in Harry Connick's band, former Sony head, Tommy Mottola, brought Malone over to Columbia. Malone's self-titled debut in 1992 quickly went to #1 on the radio charts and was followed by Black Butterfly (1993). Verve Records came calling next and released three albums by Malone: Sweet Georgia Peach (1998), Look Who's Here (2000) and Heartstrings (2001). Malone launched the strings series for MAXJAZZ with his label debut Playground (April, 2004).

Other career and musical influences include fellow guitarists Wes Montgomery, Charlie Christian, Bucky Pizzarelli, and John Collins and vocal artists Sam Cooke, the Dixie Hummingbirds and Freddy Cole. Malone has played with a wide range of musicians from different music idioms. In addition to those previously mentioned, Malone has played with such artists as: BB King, Diana Krall, Hank Jones, Christina Aguilera, Patti Austin, Little Anthony, Regina Belle, Natalie Cole, Peabo Bryson, the Winans, Kenny Burrell, Ray Brown, Ron Carter, Dianne Reeves, Roy Hargrove, Clarence Carter, George Benson and Bobby Hutcherson. Malone starred in Robert Altman's 1996 movie Kansas City.