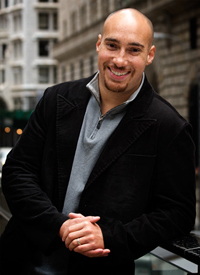 Book of Rhymes: The Poetics of Hip Hop
ADAM BRADLEY
TUESDAY, FEBRUARY 10, 2009
"I felt that for all the ways that hip-hop has shaped our culture over the past thirty years, we often overlook the transformative influence it's had on the language arts. You have major media outlets like CNN asking "Hip-hop: Art or Poison?" as if it's an open question. I mean, the level of ignorance is staggering. So part of my motivation was to help illuminate the art of MC-ing for a wide audience."

-Adam Bradley "Hip-Hop as New Dead Poets Society: A Discussion with Adam Bradley," by Marcus Reeves, Anarchist Graffiti, January 5, 2009.

Professor Adam Bradley is the co-editor of Ralph Ellison's Three Days Before the Shooting. . ., the forthcoming Modern Library edition of Ellison's unfinished second novel, along with Ellison's literary executor, John Callahan. At nearly 1,200 pages, this new edition goes beyond Juneteenth, the small portion published in 1999, by bringing together over forty years of Ellison's work on the novel. Bradley's own critical study of Ellison's fiction, Ralph Ellison-in-Progress, will be published in Fall 2009 by Yale University Press.
Bradley is extending his efforts to help define the emerging field of hip hop poetics. Book of Rhymes: The Poetics of Hip Hop (Basic Civitas, March 2009) offers a guided-tour of rap's poetry, from the sing-song rhymes of the Sugar Hill Gang to the clever wordplay of Biggie and the dusted metaphors of Lil Wayne. Bradley is also the co-editor, with Andrew DuBois of the University of Toronto at Scarborough, of the highly-anticipated Yale Anthology of Rap, the first book to bring together the greatest rap lyrics of all time, giving them the respect they deserve as poetry. His commentary has also appeared in the Washington Post and the New York Times as well as on NPR and C-SPAN.

Bradley earned his B.A. at Lewis & Clark College in Portland, Oregon, where he began working on Ralph Ellison's papers as a nineteen year-old assistant to Ellison's literary executor. He earned his Ph.D. in English from Harvard University, studying with Henry Louis Gates, Jr. and Cornel West. He is currently an associate professor of Literature at Claremont McKenna College.