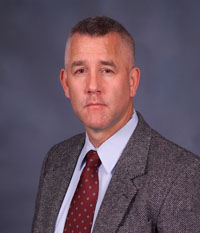 Working with Military Partners: Lessons from the U.S. Central Command Area of Responsibility
DAVID DAWSON
THURSDAY, FEBRUARY 12, 2009
LUNCH 11:30 a.m., LECTURE 12:00 p.m.
David A. (Scotty) Dawson joined U.S. Central Command as a mobilized reservist in August 2004, and was assigned to the Commander's Advisory Group, where he served as Deputy Director and Senior Analyst. He became the Command Historian in July 2007. Upon his release from active duty he was appointed as the Command Historian in the civil service.

Dawson's Athenaeum talk will focus on Operation Restore Hope (Somalia) and Operation Iraqi Freedom (OIF)/Operation Enduring Freedom (OEF), as he discusses lessons in working with coalition partners and in building military institutions. His visit to CMC is jointly sponsored by the Department of Military Science and Leadership at CMC and The Athenaeum.

Mr. Dawson grew up in St. Andrews, Scotland, and received a B.A. in history from Cornell University, an M.A. in history form Kansas State University, and A.B.D. in military history from Ohio State University. He was commissioned in the Marine Corps from the NROTC program in 1985. An infantry officer, he has held a variety of operational and training assignments on active duty and in the Reserves. Notable assignments include Command Historian, U.S. Marine Forces Somalia during Operation Restore Hope; Officer-in-Charge, Reserve Primary Marksmanship Instructor's Course; and Commanding Officer, Marine Forces West Africa Training Cruise 2003. He was a member of the Marine Corps Reserve Rifle Team and a firing member of the winning Critchfield Trophy (1,000 yard service rifle) team in 1998. His military awards include the Defense Meritorious Service Medal, the Combat Action Ribbon, and the Distinguished Marksman Badge.

Prior to joining U.S. Central Command he spent six months in Mosul and Basrah as a recruiter for the Iraqi Army. In Basrah he was the Senior Recruiter and Site Chief responsible for all recruiting activities in Southern Iraq.