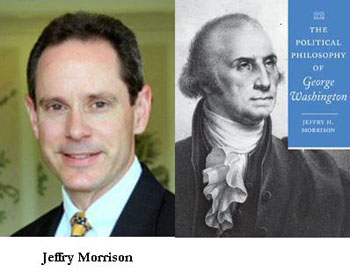 President Washington and Public Religion
JEFFRY MORRISON
MONDAY, FEBRUARY 23, 2009
LUNCH 11:30 a.m., LECTURE 12:00 p.m.
Despite condescending attitudes from his presidential successors - John Adams said that he was too "illiterate" to run the country, and Thomas Jefferson that his slow mind lacked "imagination" — Professor Jeffry Morrison will suggest that George Washington had a keen practical intelligence that was especially evident in the public treatment of religion throughout his two ground-breaking terms as chief executive. He had a special knack for using religion to accomplish political ends, and Washington succeeded in this regard where his immediate presidential successors, ironically, failed. As president, Washington deftly used religion to foster unity in the infant United States. He brought religious minorities and even majority Christian groups who were upset with the "godless" Constitution into the national fold with reassuring rhetoric in his correspondence. Moreover, he gave religion a public face in government ceremonies, particularly in his first inauguration. At the self-imposed end of his presidency, Washington's valedictory Farewell Address underscored the importance of religion in sustaining the young American republic. And throughout his two terms he successfully balanced public religion with religious liberty. In his remarks, Professor Morrison will also pay special attention to how President Washington used biblical and Anglican language in his political rhetoric.

Jeffry H. Morrison is associate professor of government at Regent University and a faculty member at the federal government's James Madison Foundation in Washington, D.C. In 2006-07 he received the Chancellor's Award as Regent University's scholar-teacher of the year. He has also taught at Princeton University, at Georgetown University, and at the United States Air Force Academy. He graduated with distinction from Boston College and from Georgetown, where he received his Ph.D. He is co-editor of The Founders on God and Government (Rowman & Littlefield, 2004), and author of John Witherspoon and the Founding of the American Republic (University of Notre Dame Press, 2005), The Political Philosophy of George Washington (Johns Hopkins University Press, forthcoming in 2009), and chapters, articles and reviews on American political thought.

Professor Morrison's lecture is sponsored by the Salvatori Center for the Study of Individual Freedom in the Modern World.