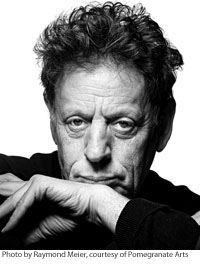 Book of Longing: Opening Night Pre-Theater Dinner
PHILIP GLASS
WEDNESDAY, FEBRUARY 25, 2009
On the occasion of the exclusive Southern California premiere of Book of Longing (2006), an evening-length concert work composed for ensemble, singers, spoken word, and imagery based on the poetry and artwork of Leonard Cohen by Philip Glass, the Athenaeum is pleased to host Glass in a pre-theater dinner. Philip Glass conceived the concert as a collection of poetic songs from many of the poems written by Cohen while he lived at the Buddhist monastery on Mt. Baldy. The music is performed by an ensemble of eight musicians including electronic keyboards (one played by Glass himself), flute/bass clarinet, hand percussion, violin, cello, double bass, and oboe, and English horn that are visible on stage throughout the evening.

Book of Longing is signature Cohen — at once meditative, playful, erotic, and provocative. The diverse collection of poems falls loosely into the categories of ballads, love and confessional poems, spiritual meditations, and short and comic pieces that Glass has called "limericks." Glass' composition is the culmination of years of mutual admiration between two of the most celebrated artists of our time.
The performance will be at Garrison Theatre, Scripps Performing Arts Center, 231 E. Tenth Street, A limited number of substantially discounted tickets are available to the students of The Claremont Colleges. To receive the discount code, please call (909) 607-8558 (on campus x78558).

Get your tickets for this opening night performance and sign up to attend the dinner and listen to Philip Glass before listening to this exclusive premiere.