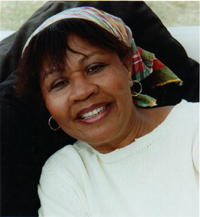 Coming of Age in a Small Place
JAMAICA KINCAID
WEDNESDAY, MARCH 4, 2009
Jamaica Kincaid was born Elaine Potter Richardson, in 1949 in St. John's, Antigua. At the age of 17, with a growing ambivalence for her family and a rising contempt for the subservience of the Antiguans to British colonialist rule, Kincaid left Antigua, bound for New York and a job as an au pair. Kincaid later dropped out of college, returned to New York, secured a job writing interviews for a teen-age girls' magazine, and changed her name to Jamaica Kincaid.

Her work in The Village Voice and Ingenue magazines drew the attention of the legendary editor of The New Yorker, William Shawn. She became a staff writer for the magazine in 1976 and a featured columnist for the "Talk of the Town" section of the magazine for the next nine years. In 1978, Kincaid's first piece of fiction was published in The New Yorker, and it later became part of her first book, At the Bottom of the River (1983). It was nominated for the PEN/Faulkner. Two years later, in 1985, Kincaid published her first novel, Annie John.

In 2004, she was elected to the American Academy of Arts and Letters. Kincaid's writing is compelling because it captures complex emotions and exposes divisive issues in a deceptively simple style. Her other major works include Annie, Gwen, Lilly, Pam and Tulip (1986), A Small Place (1988), Autobiography of My Mother (1996), My Brother (1997), Talk Stories (2000), My Garden (Book) (2001) and Mr. Potter (2002). Her latest book is Among Flowers: A Walk in the Himalaya (2005).

A visiting professor at Harvard University, where she teaches creative writing, Jamaica Kincaid lives in North Bennington, Vermont.

Ms. Kincaid's visit to CMC is part of the Freshmen Humanities Seminar series "Self and Society" sponsored by the Dean of the Faculty at CMC.