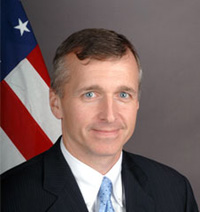 The Obama Administration and China Policy: Some Recent Lessons for the New Administration
THOMAS CHRISTENSEN
MONDAY, MARCH 9, 2009
President Obama ran a successful campaign on the theme of change, but for addressing what is perhaps the greatest long-term strategic challenge facing our nation — managing our relations with a rising China — change is not what is needed. President George W. Bush's strategy toward China is an underappreciated success story. The Obama administration should build on that success rather than attempt to radically transform China policy.
The United States has used the combination of a strong U.S. regional presence and a series of creative diplomatic initiatives to encourage Beijing to seek increased influence through diplomatic and economic interactions, rather than coercion, and to use that increased influence in a manner that improves the prospects for security and economic prosperity in Asia and around the world. This effort has been successful, in part, because Washington handled deftly many of the traditional issues in the bilateral relationship, such as economic frictions or tensions between Taiwan and the Chinese mainland. If we take a historically informed perspective and view U.S.-China relations as a movie, instead of a snapshot, we can see the positive evolution in China's foreign relations that have been fostered, at least in part, by Washington's diplomatic approach to Beijing.

Of course, many problems remain. The talk will conclude with a review of some of the biggest problems that the new Administration will likely face in crafting a strategy toward China and East Asia.

Thomas J. Christensen is Professor of Politics and International Affairs and Director of the Princeton-Harvard China and the World Program at Princeton University. From 2006-2008 Professor Christensen served as Deputy Assistant Secretary of State for East Asian and Pacific Affairs with responsibility for relations with China, Taiwan and Mongolia.

Professor Christensen received his B.A. from Haverford College, M.A. in International Relations from the University of Pennsylvania, and Ph.D. in Political Science from Columbia University.
Christensen has served on the Board of Directors and the Executive Committee of the National Committee on U.S.-China Relations. He is a life member of the Council on Foreign Relations.

The Keck Center for International and Strategic Studies at CMC is honored to sponsor Thomas Christensen as a Freeman Foundation Visiting Professor of Asian Affairs.