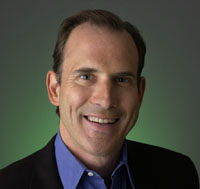 Robert Day School Distinguished Speaker Series
Lunch with a Leader: The Ubiquity of Information
JONATHAN ROSENBERG '83
WEDNESDAY, MARCH 11, 2009
LUNCH 11:30 a.m. LECTURE 12:00 p.m.
The Internet is the fastest growing, most powerful information system in human history, yet it is still in its infancy. In his talk, Jonathan Rosenberg will explore the future of the Internet and its implications. His observations and advice are especially appropriate for students, who can take this unique opportunity to consider how to prepare for careers that will be profoundly shaped by the coming ubiquity of information.

Jonathan Rosenberg is an industry veteran who oversees the teams that manage Google's innovative product portfolio and go-to-market strategies. In this role, Mr. Rosenberg oversees the design, creation and improvement of all of Google's products, from consumer offerings to publisher and business services. He directs the teams with a special focus on delivering exceptional user experience, continuous innovation, and highly relevant, accountable, and untraditional marketing.

Prior to joining Google in 2002, Mr. Rosenberg founded, led and managed some of the most innovative product development teams of the Internet's first era. He was the founding member of @Home's product group and served as senior vice president of online products and services after the merger of Excite and @Home. Prior to that, Mr. Rosenberg managed the eWorld product line for Apple Computer. Earlier, he was director of product marketing for Knight Ridder Information Services in Palo Alto, California, where he directed development of one of the first commercially deployed online relevance ranking engines and menu-driven Boolean search services for consumers.

Mr. Rosenberg holds an MBA from the University of Chicago and a bachelor's degree with honors in economics from Claremont McKenna College, where he graduated Phi Beta Kappa.