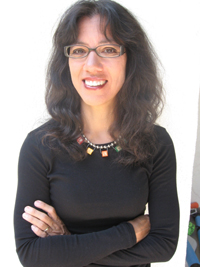 Mother on Fire
SANDRA TSING LOH
WEDNESDAY MARCH 11, 2009
Sandra Tsing Loh is a writer/performer whose solo shows include "Mother on Fire" (which ran for seven months in Los Angeles at 24th St. Theatre), "Sugar Plum Fairy" (the Geffen Playhouse, Seattle Rep and San Jose Rep), "I Worry" (Woolly Mammoth Theatre at the Kennedy Center, Actor's Theatre of Louisville, Santa Fe Stages), "Aliens in America" and "Bad Sex With Bud Kemp" (which both premiered off-Broadway at Second Stage).

Loh's books include A Year in Van Nuys (2001), Aliens in America (1997), Depth Takes a Holiday: Essays From Lesser Los Angeles (1997), and a novel, If You Lived Here, You'd Be Home By Now (1997), which was named by the Los Angeles Times as one of the 100 best fiction books of 1998. Her story "My Father's Chinese Wives" received a 1997 Pushcart Prize and was featured in the 1999 Norton Anthology of Short Fiction.

She and her husband Mike Miller composed the music for Jessica Yu's documentary short Breathing Lessons, which won an Oscar in 1998. Her 1989 solo piano CD is Pianovision (K2B2 Records), which still surfaces occasionally here and there as "buttons" on public radio.

She has been a regular commentator on NPR's "Morning Edition" and on Ira Glass' "This American Life." Currently, KPCC (89.3 FM in Los Angeles) broadcasts her daily segment The Loh Down on Science and her weekly segment The Loh Life. American Public Media's "Marketplace" broadcasts her monthy segment The Loh Down. She is currently a contributing editor for The Atlantic Monthly and was a 2006 finalist for the National Magazine Award.

Loh received her B.S. from Caltech in physics and is a graduate of the Master of Professional Writing Program at the University of Southern California.
Sandra Tsing Loh's visit to CMC is jointly sponsored by the Athenaeum and the Berger Institute for Work, Family, and Children.