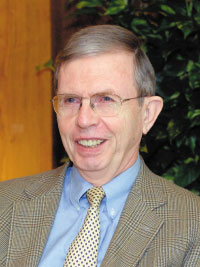 U.S.-Japan Relations and the Obama Administration
KENNETH PYLE
TUESDAY, MARCH 24, 2009
LUNCH 11:30 a.m., LECTURE 12:00 p.m.
The new Obama administration faces the challenge of dealing with a troubled alliance with Japan. At a time when Japan faces rising Chinese power and ambition, a belligerent North Korea, and questions about American political and economic leadership, Japanese are on the verge of making fundamental changes in their politics that will make Japan more assertive and will complicate the alliance. Professor Pyle will address these issues and answer your questions.

Kenneth B. Pyle is the Henry M. Jackson Professor of History and Asian Studies at the University of Washington. He is Founding President of The National Bureau of Asian Research, an independent non-partisan research institute to promote an informed and effective American policy toward Asia.
Professor Pyle is author and editor of numerous books on modern Japan and its history. His most recent book is entitled Japan Rising: The Resurgence of Japanese Power and Purpose (2007). He took his B.A. from Harvard College and his Ph.D. from Johns Hopkins University. He has been a visiting faculty member at Stanford and at Yale.

From 1978 to 1988 Professor Pyle was Director of the Henry M. Jackson School of International Studies at the University of Washington. He was founding editor of the Journal of Japanese Studies from 1974 to 1986.

From 1992 to 1995, he was chairman of the Japan-U.S. Friendship Commission. He was co-chairman of the U.S.-Japan Conference on Cultural and Educational Interchange, the official bi-lateral organization established by President Kennedy in 1962 to oversee cultural and educational relations between the two countries.

From 1996 to 1999, he was chairman of the American Advisory Committee of the Japan Foundation and is an elected member of the Council on Foreign Relations in New York City.

In 1999 the Government of Japan decorated Professor Pyle with one of its highest imperial honors, the Order of the Rising Sun, for his contributions to scholarship and cultural exchange.
The Keck Center for International and Strategic Studies at CMC is honored to sponsor Kenneth Pyle as a Freeman Foundation Visiting Professor of Asian Affairs.