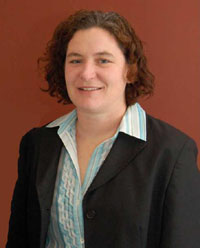 The Believers: A Documentary Film by Todd Holland
BETH BURKHART '94
THURSDAY, APRIL 2, 2009
CMC Alumna Beth Burkhart '94 co-produced the documentary film, The Believers (2006), which follows Transcendence, the world's first transgender gospel choir — it will leave you thinking differently about gender and faith. The Believers follows the journey of the choir and its members from its inception until winning an Outmusic Award in 2004. The Believers is currently broadcast on LOGO, distributed to universities, libraries and churches, and was named by Video Librarian as one of the top documentary films in 2007. Variety praised the film as an "engaging documentary," with an "upbeat, instrumental tenor." Beth Burkhart will attend the screening to talk about how the film came about and its subsequent impact.

Beth Burkhart is a marketer and filmmaker with a passion for social justice. From 1999-2008 Beth worked in brand management at The Clorox Company, and has recently spent time traveling in South America and Southeast Asia.

Beth has served on the SFLGBT Community Center board of directors since 2006 and is presently the board co-chair. She earned her MBA from UCLA's Anderson Graduate School of Management in 1999, her B.A. in Economics and International Relations from Claremont McKenna College in 1994. She grew up in Phoenix, Arizona and lives in San Francisco.

Beth's talk is sponsored by the CMC Diversity Committee.