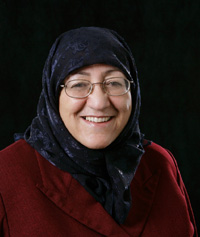 2009 Henry R. Kravis Prize in Leadership
History of the Afghan Institute of Learning
SAKENA YACOOBI
FRIDAY, APRIL 3, 2009
LUNCH 11:30 a.m., LECTURE 12:00 p.m.
Claremont McKenna College and the Kravis Leadership Institute recently announced the selection of Sakena Yacoobi, founder of the Afghan Institute of Learning, to receive the fourth annual Henry R. Kravis Prize in Leadership. The Kravis Prize, which carries a $250,000 award designated to the honoree's organization, recognizes extraordinary leadership in the nonprofit sector. Dr. Yacoobi was selected for her outstanding record providing an estimated 350,000 women and children with access to education and health care each year.

Sakena Yacoobi has spent the last 28 years providing education, training, and health care services to women and children in Afghanistan and Pakistan. One of her enduring contributions is focusing attention on the issue and importance of girls' education in Afghanistan.

Dr. Yacoobi's achievements demonstrate significant courage and persistence in the face of extensive obstacles to educating girls and women in Afghanistan. During the Taliban's rule, for example, the education of girls was prohibited. Dr. Yacoobi and the staff of AIL took great risks in operating 80 underground home schools for 3,000 girls during the 1990s.

Born in Herat, Afghanistan, Dr. Yacoobi came to the United States in the 1970s and received her education at U.S. universities. In 1990, she left a successful career as a professor and consultant in the U.S. and returned to Afghanistan during the Taliban's rule to work with her native people. Dr. Yacoobi founded the Afghan Institute of Learning (AIL) in 1995 while working in Afghan refugee camps in Pakistan. AIL's first program initiative was to establish learning centers in the refugee camps in response to the women's requests for educational opportunities for themselves and their children.

AIL currently operates 41 women's learning/education centers, five health centers, and three mobile health clinics. Since 1996, the learning/education centers have trained over 15,000 teachers and health education training to more than 500,000 women. In 2003, AIL founded Gawher Shad University in response to the lack of post-secondary education opportunities for Afghan women. To date, 179 students have graduated and 182 are currently enrolled.

Seventy percent of AIL's 450 staff members are Afghan women. Under Dr. Yacoobi's leadership, AIL has become one of the largest nonprofit organizations in Afghanistan and currently serves more than 350,000 women and children each year. Her innovative approaches to education and community involvement serve as a model in the sector, and AIL actively assists in building the capacity of other organizations and entities. The concept of women's learning centers and AIL's interactive teaching methods have been replicated by many nonprofit organizations in Afghanistan as well as by government and educational institutions. AIL also provides training and technical assistance to small, local Afghan community-based organizations to help build the capacity of Afghanistan's civil society sector and increase the enrollment of female students.