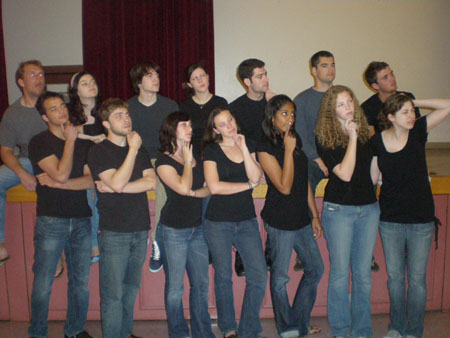 UNDER THE LIGHTS DINNER THEATER
Dinner Theater
Don't Drink the Water by Woody Allen
WEDNESDAY, APRIL 8 - FRIDAY, APRIL 10, 2009
The Athenaeum is pleased to once again feature CMC's own student-run theater group, Under the Lights (UTL). Each spring, UTL presents a dinner theater show in the Athenaeum.

This year, the students will perform Woody Allen's comedy, Don't Drink the Water (1966). In an Eastern European communist country, a family of tourists runs into the American embassy, chased closely by police who suspect them of spying. The family has taken pictures of what they thought was a cultural landmark but was actually a restricted government area! The American ambassador is gone and has left his bumbling son in charge. The son quickly turns the situation into an international crisis. Now if they ever want to return home, the family must find a way to escape the embassy without the communist police noticing. "Don't Drink the Water" is a zany and hilarious farce with classic Woody Allen wit.

The play stars Naomi Bagdonas'09, Solon Christensen-Szalanski'10, Daniel Feblowitz (Pomona '11), Cecily Keppel (HMC '11), Zeben Kopchat'12, Lindsay Mandel '09, Max Menke (Pitzer '10), David Pezzola'09, Amanda Sardis '09, Daniela Spencer'12, Divya Vishwanath '11, Katherine Wernet '11, and Edward Zaki'11. Brendan Sasso'10 directs.