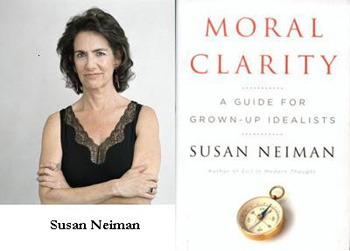 Idealism and Evil: The Last Eight Years
SUSAN NEIMAN
WEDNESDAY, APRIL 15, 2009
LUNCH 11:30 a.m. LECTURE 12:00 p.m.
Moral inquiry and political activism start where reason is missing. When righteous people suffer and wicked people flourish, we begin to ask why. Demands for moral clarity ring long, loud bells because it is something we are right to seek. Those who cannot find it are likely to settle for the far more dangerous simplicity, or purity, instead.

- from Moral Clarity: A Guide for Grown-Up Idealists

Susan Neiman is an American moral philosopher, cultural commentator, and essayist. She has written extensively on the juncture between Enlightenment moral philosophy, metaphysics, and politics — reinterpreting past thinkers for contemporary contexts. She currently lives in Germany, where she is the Director of the Einstein Forum in Potsdam.
Born in Atlanta, Georgia, Neiman studied philosophy at Harvard and the Freie Universität Berlin, and taught philosophy at Yale and Tel Aviv University. She is the author of Slow Fire: Jewish Notes from Berlin (1992), The Unity of Reason: Rereading Kant (1994), Evil in Modern Thought: An Alternative History of Philosophy (2002) and Moral Clarity: A Guide for Grown-up Idealists (2008).
The Wall Street Journal called her 2008 Moral Clarity "An argument for re-engaging with the moral vocabulary of the country." Her 2002 work, Evil in Modern Thought: An Alternative History of Philosophy, explains philosophy's quest, touching on Kant, among others, as one perpetually in search of a perfect understanding of evil.
Neiman has been a Member of the Institute for Advanced Study at Princeton, a Research Fellow at the Rockefeller Foundation Study Center in Bellagio, and a Senior Fellow of the American Council of Learned Societies. She is now a member of the Berlin-Brandenburg Academy of Sciences and Humanities. Her books have won prizes from PEN, the Association of American Publishers, and the American Academy of Religion... Her shorter pieces have appeared in The New York Times, The Boston Globe, The Globe and Mail, and Dissent.

Susan Neiman's Athenaeum lecture is jointly sponsored by the Center for the Study of the Holocaust, Genocide, and Human Rights and the Keck Center for International and Strategic Studies at CMC.