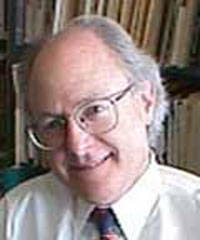 Theatre of the Holocaust
ROBERT SKLOOT
MONDAY, APRIL 20, 2009
The Center for Holocaust, Genocide and Human Rights brings Robert Skloot to campus, a specialist in the theatre of the Holocaust and genocide.

Robert Skloot (Ph.D., Minnesota) joined the University of Wisconsin-Madison theatre and drama faculty in 1968. He teaches courses in theatre literature and serves as a staff director for the University Theatre. He is the editor of The Theatre of The Holocaust (vol. 1, 1982; vol. 2, 1999) and author of The Darkness We Carry: The Drama of The Holocaust (1988).

Skloot has published numerous essays, has won several teaching awards, is a member of the U.W. Teaching Academy, and has served as Fulbright Professor of Drama in Israel, Austria and Chile. He was chair of the Department of Theatre and Drama from 1990 to 1993.

Funded by the National Endowment for the Humanities, Skloot has directed seminars for high school teachers on the subject of "The Theatre and the Holocaust." He holds a joint appointment with the Jewish Studies Program and serves as its director.

This lecture is the second annual H. and R. Auerbach Lecture and is made possible through the generosity of the H. and R. Auerbach Lecture Fund through the Center for the Study of the Holocaust, Genocide, and Human Rights at CMC.

Skloot comes to CMC as part of the observance of Yom HaShoah, commemorating the lives of those who suffering during the Holocaust.