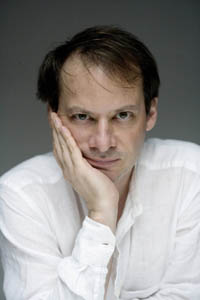 WELCOME DINNER FOR THE CMC CLASS OF 2013
Angels and Ages
ADAM GOPNIK
THURSDAY, SEPTEMBER 10, 2009
Darwin and Lincoln were makers and witness of the great change that, for good or ill, marks modern times
-Adam Gopnik

On a memorable day in human history, February 12, 1809, two babies were born an ocean apart: Abraham Lincoln and Charles Darwin. Together they became midwives to the spirit of a new world, a new kind of hope and faith. Searching for the men behind the icons of emancipation and evolution, Adam Gopnik reveals them as both ordinary family men with ambitions, faults and loves and as great thinkers who helped shape the modern world — a world increasingly governed by reason, argument and observation, by the verdicts of time and history. As writers, they invented a new language to express that understanding, the liberal voice we now use both at home and in public. This presentation is a meditation on how we got where we are and how we became who we are as children of robust democracy and science.

Adam has been writing for The New Yorker since 1986, and his work for the magazine has won both the National Magazine Award for Essay and the George Polk Award for Magazine Reporting. He has broadcasted regularly for the Canadian Broadcasting Corporation and wrote the article on American culture for the last two editions of the Encyclopedia Britannica. His new book embodies this gift for using historical biography to explore the way we live today. Angels and Ages: A Short Book about Darwin, Lincoln, and Modern Life (2009) looks at the birth of the modern era through the lives of two extraordinary people born within hours of each other exactly 200 years ago this year.

President Pamela Gann and Dean of Students Jeff Huang have presented a copy of Angels and Ages as a gift to each incoming freshman student and the Athenaeum has invited author Adam Gopnik to speak to the class during this traditional dinner for freshmen. Mr. Gopnik has personally signed bookplates that will be distributed to everyone at the dinner. You already have the book and now you will have the opportunity to ask questions and engage in conversation with the author — an opportunity not to be missed!

Members of the freshmen class are automatically signed up for this dinner. If you are unable to attend, please call ext. 18244 or email laguiar@cmc.edu to cancel your reservation so that you can have dinner at Collins.