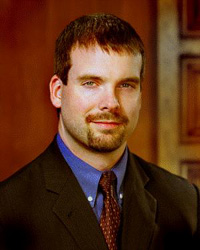 Reflections of a McKenna Scholar
ROBERT THOMAS, JR. '99
MONDAY, SEPTEMBER 21, 2009
Robert Thomas '99 is the newly appointed Chief Investment Officer for the George Kaiser Family Foundation. The Foundation is a charitable organization dedicated to breaking the cycle of poverty through investments in early childhood education, community health, social services, and civic enhancement. As Chief Investment Officer for the Foundation, Robert is responsible for the financial administration and management of its $3.5 billion investment portfolio.

For the previous ten years, Robert was a Portfolio Manager for the Bill Gates Investment Office. The Gates office invests the personal assets of Mr. Gates, as well as the assets of the Bill & Melinda Gates Foundation. In his capacity working for BGI/Cascade, Robert held several different porfolio manager positions with the most recent responsibility being oversight of all externally managed fund relationships (public and private). Previous areas of responsibility have included energy/commodities, fixed income, currencies, and general public and private equity analysis.

Robert has previously served as a Director for Pacific Ethanol Inc. and North Sea Gas Partners. He is currently a Director of QuSwami as well as a member of the Board of Advisors for the Financial Economics Institute at Claremont McKenna College.

Robert earned a Bachelor of Arts Degree in Economics from Claremont McKenna College magna cum laude and is a CFA Charterholder.