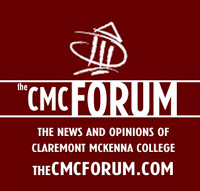 CMC Forum Debate Night at the Ath: Is CMC a True Liberal Arts College?
IIAN WURMAN '10
DANIEL EVANS '12
CHARLES SPRAGUE '10
ABHI NEMANI '10
CARL PEASLEE '11
ADITYA PAI DHUNGAT '13
MONDAY, SEPTEMBER 28, 2009
At CMC, debate abounds. From dining halls to dorm rooms, students are caught up in thoughtful discussions. Supported by the Associated Students of Claremont McKenna College,
The CMC Forum
took on-campus discussions and put them online, creating a new space for campus debate on
cmcforum.com
. Now, the
Forum
is bringing the discussion back to its first home at CMC: the Athenaeum.
The premise is simple — take a campus issue and let students debate the pros and cons. In fact, the event was inspired by an old tradition at CMC when the administration would hold open forums for student and faculty input on college policy. Together with the Ath, the
Forum
is recasting this tradition as fully student-driven. Students suggested topics, students voted on them online, and students will be tackling them together. This is not a panel discussion by pre-selected experts. This is an open debate by your classmates and your friends.
The topic students selected is as fundamental to the college as this event is to its character: What makes CMC, well, CMC? That is, is CMC a true liberal arts college? And if not, then what is it? Does it still emphasize general knowledge or is CMC becoming a specialized pre-professional school? These are the questions the college must ask as the Board of Trustees begins crafting a new strategic plan, and these are the questions that will be posed to the student body at the Debate Night at the Ath.
Since this is a student event, it will not be overly serious. The main event will be paired with a second, less formal, and lighter debate on something just as pressing in college life: dating culture, the Pomona rivalry, or maybe even left-handedness. To add some drama, both attendees and participants will learn of that topic upon arrival. The format for both, though, will feature one or two speakers from each side as well as full audience participation. At the end, as a true
Forum
, the audience will declare a winner, measured of course in cheers and applause.
E-mail the
Forum
(
forum@ascmc.org
) if you're interested in speaking on Debate Night. Depending upon response, the
Forum
will select speakers as the format allows.