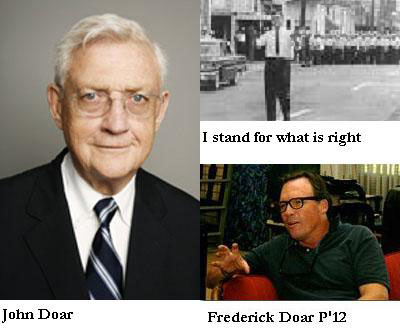 I Stand for What is Right
JOHN DOAR
The Search for Subatomic Realism
FREDERICK DOAR P'12
WEDNESDAY, SEPTEMBER 30, 2009
If you have entered the Athenaeum recently, you will have undoubtedly noticed
new paintings adorning the walls
. The works are part of an exhibition called
The Search for Subatomic Realism
, painted by artist Frederick Doar, P'12. A Princeton Politics major and former CEO and owner of Grace Baking Company, Mr. Doar has painted full-time for the past six years. From his studio in Sausalito, California, he has created over 250 paintings in his so-called neo-abstract school of Subatomic Realism. He calls his paintings "representations of reality at the sub-atomic level" and cites his influences as Pollock, De Kooning and Rothko among others. He calls the Athenaeum "an ideal environment to display works of this size and composition." You can check out a video of Mr. Frederick Doar's work
here
. This evening, we will formally open the exhibition to the public, which will run in the Security Pacific Dining Room through January 2010.
Also joining us is Frederick's uncle,
Mr. John Doar
. John is a champion of the civil rights movement, having served as the Assistant Attorney General, Civil Rights Division for the U.S. Department of Justice from 1960 to 1967. During that time, he helped enable James Meredith, an African-American student, attend the then-segregated University of Mississippi. Mr. Doar also prosecuted the individuals who allegedly lynched three civil rights workers in the
Mississippi Burning case
and helped draft the Civil Rights Act of 1965. Mr. Doar also served as Special Counsel to the House of Representatives with respect to the impeachment of President Nixon and as counsel to the investigation of a sitting federal judge, who was ultimately impeached. A graduate of Princeton and Boalt Hall School of Law at U.C. Berkeley, he is now senior counsel at Doar Rieck Kaley & Mack in New York.