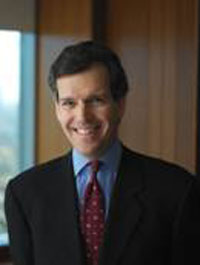 The Robert Day School Distinguished Speaker Series & Claremont Finance Conference
Lunch with a Leader
HARRY MCMAHON '75 P'08 P'09
FRIDAY, OCTOBER 2, 2009
12:30 p.m.
Harry McMahon is Executive Vice Chairman of Global Corporate & Investment Banking at Bank of America Merrill Lynch. In this role, he is focused on creating value for a broad array of the firm's corporate clients. He interacts primarily with CEO's and Corporate Directors across industries and geographic regions to provide ideas, innovative solutions, and superior execution.
He also serves on the GCIB Leadership Team and partners with Senior Bank of America Merrill Lynch professionals to deliver the full complement of the firm's resources to advance its mission worldwide.

McMahon joined Merrill Lynch in 1983 and has held various leadership positions in Global Markets and Investment Banking, including co-head of the Global Corporate Finance group from 1996 to 2003 and Senior Vice President and Vice Chairman from 2003 to 2008. His broad base of deal experience includes leading teams on more than 300 projects involving either merger-and-acquisitions advisory work or corporate finance.

From 1975 to 1983, McMahon worked for the Northern Trust Bank of Chicago in international cash management, commercial lending and corporate finance.

He received an MBA with a concentration in finance from the University of Chicago Graduate School of Business in 1980, and a B.A. in economics in 1975 from Claremont McKenna College, where he currently Chairs the Board of Trustees. During his presentation, Mr. McMahon will discuss the investment banking industry while reflecting on his experiences during the recent financial crisis. He will also share some of his strategies for success.