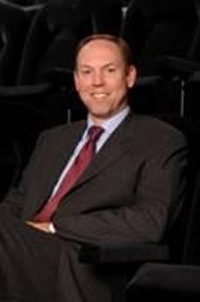 Robert Day School Distinguished Speaker Series
Lunch with a Leader: The Entertainment Industry
JON KIRCHNER '89
FRIDAY, OCTOBER 23, 2009
LUNCH 11:30 a.m., LECTURE 12:00 p.m.
Jon E. Kirchner '89 is President and CEO of DTS, Inc., a global high performance technology company dedicated to delivering the ultimate entertainment experience. Mr. Kirchner is responsible for the overall corporate direction of DTS, Inc., and its brands.

Mr. Kirchner joined DTS, Inc. in 1993 and has served in a number of capacities including Chief Operating Officer, Vice President of Finance and Business Development and Director of International Operations.

Prior to joining DTS, Inc., Mr. Kirchner worked in the Dispute Analysis and Corporate Recovery and Audit Groups of Price Waterhouse LLP (now PricewaterhouseCoopers LLP) where he advised clients on financial and operational restructuring, business turnaround, market positioning, and valuation issues. Mr. Kirchner has experience in a variety of industries including entertainment, technology, manufacturing, distribution, and transportation.

Mr. Kirchner is a Certified Public Accountant and received a B.A. in Economics, cum laude, from Claremont McKenna College. Mr. Kirchner is a member of the Board of Directors of DTS, Inc. and is a member of the Advisory Board for CMC's Berger Institute for Work, Family, and Children. During his presentation, Mr. Kirchner will discuss the entertainment industry and his experience taking a company public while sharing some of his strategies for success.