Athenaeum Location
Print Newsletter
October 26, 2009
Vol. 25, No. 04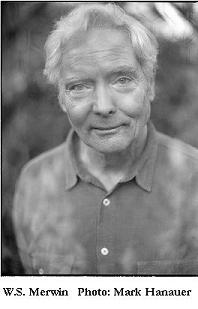 2009 Ricardo J. Quinones Distinguished Lecture
An Evening with the Poet
W.S. MERWIN
MONDAY, OCTOBER 26, 2009
Two time winner of the Pulitzer Prize, W.S. Merwin is a major American writer whose poetry, translations, and prose have won praise since W.H. Auden awarded his first book,
A Mask for Janus
(1952), the Yale Younger Poets Prize. Though that first book reflected the formalism of the period, Merwin eventually became known for an impersonal, open style that eschewed punctuation. Writing in the
Guardian
, Jay Parini described Merwin's mature style as "his own kind of free verse, [where] he layered image upon bright image, allowing the lines to hang in space, largely without punctuation, without rhymes . . . with a kind of graceful urgency." Although Merwin's writing has undergone stylistic changes through the course of his career, a recurring theme is man's separation from nature. The poet sees the consequences of that alienation as disastrous, both for the human race and for the rest of the world. Merwin, who is a practicing Buddhist as well as a proponent of deep ecology, has lived since the late 1970s on an old pineapple plantation in Hawaii which he has painstakingly restored to its original rainforest state.
Merwin's honors include the Aiken Taylor Award for Modern American Poetry, the Bollingen Prize, a Ford Foundation grant, the Governor's Award for Literature of the State of Hawaii, the Ruth Lilly Poetry Prize, the PEN Translation Prize, the Shelley Memorial Award, the
Wallace Stevens Award
, and a Lila Wallace-Reader's Digest Writers' Award, and fellowships from The Academy of American Poets, the Guggenheim Foundation, the National Endowment for the Arts, and the Rockefeller Foundation.
W.S. Merwin attended Princeton University. He is a former
Chancellor
of The Academy of American Poets and has served as Poetry Consultant to the Library of Congress.
Merwin's contributions to literature are nearly too extensive to list. For a list of poetry, translated works, books, periodicals and online contributions click either of the following links:
http://www.poetryfoundation.org/archive/poet.html?id=4676
http://www.poets.org/poet.php/prmPID/123
W.S. Merwin is this year's Ricardo J. Quinones Distinguished Lecturer, a lectureship established in honor of the founding director of the Family of Benjamin Z. Gould Center for Humanistic Studies, Ricardo Quinones, Josephine Olp Weeks Professor of Comparative Literature, CMC, Emeritus.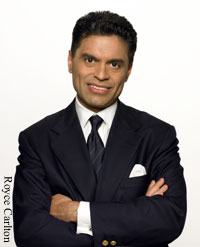 The Rise of the Rest: The Post-American World
FAREED ZAKARIA
TUESDAY, OCTOBER 27, 2009
One of the most familiar commentators on international affairs,
Fareed Zakaria
is the editor of
Newsweek International
. Born in India, he studied at Yale before receiving his Ph.D. at Harvard, where his dissertation adviser was Professor Samuel Huntington. After achieving his doctorate, he became managing editor of
Foreign Affairs
, where he was
charged with reinvigorating the popular journal
. In 2000, he transitioned to
Newsweek
, where he writes a regular column on foreign affairs. His cover article "
Why They Hate Us
," written after the September 11 terrorist attacks, launched Zakaria into the national limelight and garnered him several awards.
Zakaria used to serve as a news analyst with ABC's political talk show
This Week with George Stephanopoulos
and used to host a weekly show on PBS. Now, he broadcasts
Fareed Zakaria GPS
, a weekly program on CNN that brings in-depth interviews with world leaders and panel discussions with international analysts. He has also published several books, including
The Future of Freedom
(2003), a
New York Times
bestseller that has been translated into 20 languages, and most recently,
The Post-American World
(2008). Zakaria also has been named "one of the 21 most important people of the 21st Century" by
Esquire
magazine and one of the "top 100 public intellectuals" by
Foreign Policy
and
Prospect
magazines.
Dr. Zakaria's visit to CMC is sponsored by the Res Publica Society of Claremont McKenna College.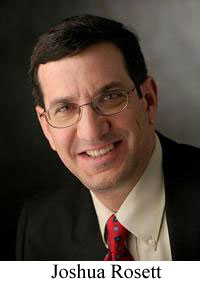 The Green Street Ensemble: An Evening of Chamber Music
JOSHUA ROSETT, violoncello
AUDREY LAMPREY, french horn
JAMIE BOYD CARIDI, piano
LORI IVES, viola
WILLIAM WELLWOOD, clarinet
EDRIS BOYLL-KUZIA, violin
WEDNESDAY, OCTOBER 28, 2009
CMC is known for having students with diverse skills, but its faculty members also deserve recognition for possessing impressive talents outside the classroom.
Professor Joshua Rosett
, the Curb Family Associate Professor of Business and Law at the Robert Day School of Economics and Finance, is also a gifted cellist, and he will perform in a chamber music concert at the Athenaeum.
Professor Rosett took up the cello after his middle school orchestra conductor told him, "you look like a cellist," perhaps out of a need for additional cello players. He planned to pursue a professional career in music, and he trained under Dudley Powers, a professor at Northwestern University and the First cellist with the Chicago Symphony. At 21, he switched to economics, and received his doctorate at Princeton University. He taught at a number of universities until coming to CMC in fall 2003. He joined the Claremont Concert Orchestra and has accompanied conductor Dean Michael Lamkin to Austria to play in the Haydn Festival, in addition to having played two noon concert programs at Scripps Balch Auditorium. Professor Rosett's cello was fashioned in London in 1740 and was a gift to him from his wife, and, as he mentions, "incidentally was purchased from the same middle school orchestra conductor who chose my musical fate when I was in fifth grade."
Audrey Lamprey is a graduate of the Eastman School of Music (B.M.) and Bowling Green State University (M.M.). Mrs. Lamprey is on the faculty at U.C. Riverside and Cal Poly, Pomona where she teaches various music classes. A member of the horn sections of the Riverside Philharmonic, Redlands Symphony and San Bernardino Symphony, she also is a member of the Lordsburg Trio. Mrs. Lamprey has an active teaching studio at her home in La Verne.
Jamie Boyd Caridi has a Master's Degree in Piano Performance from Duquesne University in Pittsburgh, Pennsylvania and a Master's Degree in Applied Women's Studies from Claremont Graduate University. She researches women composers and has presented lecture-recitals at a variety of conferences in the U.S., premiering the First Piano Sonata by Nancy Van de Vate at the 2001 Amalfi Music Festival in Italy.
Though her heart is in chamber music, violist Lori Ives served as principal viola with the Inland Empire, Redlands Bowl and Claremont Concert Orchestras and as section viola with the Rio Hondo and Redlands Symphonies. She has played in the Claremont Concert Orchestra since 1970. In 1990, the Claremont Symphony featured her in a double concerto for viola and clarinet and later that year, she soloed with the Claremont Concert Orchestra. Lori, a graduate (1961) of Harvey Mudd College, married her professor and never left Claremont.
William H. Wellwood (Clarinet) earned degrees include M.M. Yale School of Music and C.M.A. University of Southern California. He has performed in orchestra and chamber groups throughout the United States and is currently principal clarinetist with the Torrance Symphony Orchestra and bass clarinetist with the American Concert Winds/Long Beach Municipal Band. He has recently performed on the Distinguished Faculty Concert Series at the Colburn School of Performing Arts in Los Angeles (2005 & 2006). Dr. Wellwood is a on the faculty of the La Sierra University, the Bellflower Institute of Art Music and Science, the Claremont Community School of Music, and the Colburn School of Performing Arts.
Edris Boyll-Kuzia began studying violin as a third grader in the Knoxville, Tennessee public school music program. (The preceding is an unpaid plug for music education.) She majored in Music Education at Indiana University, studied privately with Ronald Knudsen of the Boston Symphony, and earned an M.A. in violin at The Claremont Graduate School (now University). Finding the demand for public school music teachers to be slim, she has spent most of her career teaching, and enjoying, first grade in Ontario, California. She currently plays viola in the Claremont Concert Orchestra, and as much chamber music as possible.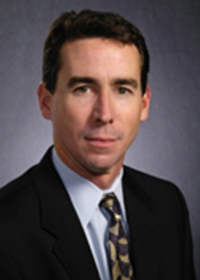 Managing Low Skilled Immigration in the United States
GORDON HANSON
THURSDAY, OCTOBER 29, 2009
In 2007, the U.S. Congress failed in its efforts to reform U.S. immigration laws. While inflows of illegal immigrants have dropped during the current recession, there remain large numbers of undocumented workers in the country and inflows will likely resume once the economy begins to recover. Even now, when the domestic and foreign policy agendas are backlogged with a panoply of pressing reforms, illegal immigration remains a politically salient topic due to the perceived effects of illegal immigration on healthcare reform, homeland security, macroeconomic prosperity, and the national culture and character.

Gordon Hanson is the director of the Center on Pacific Economies and a professor of economics at U.C. San Diego. He is also a member of the Council on Foreign Relations and a senior research fellow at the National Bureau of Economic Research.

Professor Hanson has published extensively on a variety of political and economic causes and consequences of immigration including the impact of trade and immigration on wages and the origins of political opposition to immigration. His most recent book is Skilled Immigration Today: Problems, Prospects, and Policies (Oxford University Press, forthcoming), co-edited with Jagdish Bhagwati.

Hanson's talk will focus on two issues. First, how has the United States managed immigration of low skilled workers over the last several decades? Second, what are the policy options facing the country going forward and what are the pros and cons of these options?

Professor Hanson's visit to Claremont McKenna College is sponsored by The Lowe Institute of Political Economy.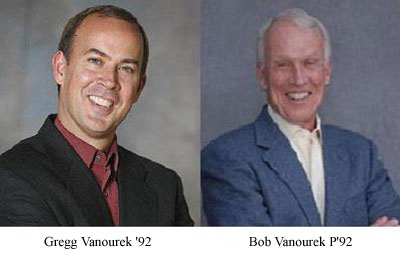 Creating Great Leadership Organizations: Achieving Results with Integrity
GREGG VANOUREK '92
BOB VANOUREK P'92
MONDAY, NOVEMBER 2, 2009
Gregg Vanourek, CMC '92, is a founding partner of New Mountain Ventures, a personal leadership development firm serving clients nationwide, co-author of Life Entrepreneurs: Ordinary People Creating Extraordinary Lives (2008), and has launched several consulting and educational ventures. His father, Bob Vanourek, is a retired chief executive with a thirty-year business career, focused on leading companies or divisions experiencing extreme challenges.

The Vanoureks will discuss their forthcoming book, Creating Great Leadership Organizations: Achieving Results with Integrity. Having interviewed professionals at fifty organizations such as Google, GE, Xerox, Procter and Gamble, and Ashoka about leadership and leadership philosophies, they discuss practices that foster values-based leadership.

Bob Vanourek has taught leadership at Denver University's Daniels College of Business and at Colorado Mountain College and is Chairman Emeritus of the Vail Leadership Institute. He is a Baker Scholar graduate of the Harvard Business School and a magna cum laude graduate of Princeton University in economics. Bob and his wife, June, have two sons and five grandchildren. They won the Colorado Governor's Award for Volunteer Service in 2003.
Gregg Vanourek holds an M.B.A. from the Yale School of Management, an M.Sc. from the London School of Economics and Political Science, and a B.A. from Claremont McKenna College, where he graduated magna cum laude and was an Academic All-American soccer player, with a degree in Politics, Philosophy, and Economics. He serves on the Board of the Vail Leadership Institute. Gregg lives with his wife and daughters in Heby, Sweden.

The Vanoureks will discuss their forthcoming book, Creating Great Leadership Organizations: Achieving Results with Integrity. Having interviewed professionals at fifty organizations such as Google, GE, Xerox, Procter and Gamble, and Ashoka about leadership and leadership philosophies, they discuss practices that foster values-based leadership.

The Kravis Leadership Institute at CMC is honored to sponsor the Vanoureks' presentation as part of KLI's Leadership Day at CMC.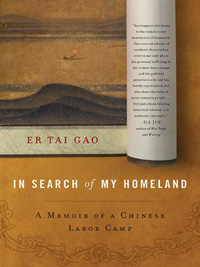 2009 Golo Mann Lecture
In Search of My Homeland
ER TAI GAO
TUESDAY, NOVEMBER 3, 2009
Among numerous memoirs by Chinese authors, In Search of My Homeland stands out as an eloquent testimony to the violation and destruction of humanity. This revered scholar of aesthetic theories has written not only about his personal suffering in the remote labor camps and the political persecution he and his family experienced, but also about the fates of many common people. His style is fortified by concision, elegance, restraint, and depth. Each chapter here stands alone as a story and together they form a historical panorama of the Chinese society in the second half of the twentieth century. However, this is not just a book bearing historical witness; it is authentic literature.
-Ha Jin

Writer, critic, painter and scholar Er Tai Gao was born in 1935 near Nanjing. A former member of the Council of the National Association of Art and Literary Theory, he is widely known in China for his contributions to aesthetic theory. In 1957, he published an essay, "On Beauty," that challenged the prevailing Communist stance on aesthetics and objectivity. Gao was quickly branded a "rightist" and sentenced to three years of hard labor in the Gobi desert, where nearly three-quarters of his fellow prisoners died. Over the next forty years, as the Cultural Revolution overtook China and ensuing campaigns toward "eradicating spiritual pollution" rose in its wake, Gao's strong humanist views, which he expressed through his writing and teaching, made him a target of the Chinese government. He was sentenced again to hard labor from 1966 to 1972, and later dismissed from his duties at Lanzhou University and prohibited from writing and publishing. He was arrested in 1989 following the Tiananmen Square protests, and, after spending nearly a year in prison, was again prohibited from teaching and publishing. In 1992, he and his wife, the painter Maya Gao, escaped to Hong Kong and now live in exile in Las Vegas, Nevada. Gao's published works include The Struggle of Beauty and Beauty, The Symbol of Freedom (1987). His memoir, In Search of My Homeland, was published October 20, 2009 by HarperCollins.
Gao has been a member of the faculty at the Dunhuang Cultural Relics Research Institute and the Chinese Academy of Social Sciences Institute of Philosophy, and a professor at Lanzhou University, Sichuan Normal University, Nankai University, and Nanjing University.
Er Tai Gao's visit to CMC, his second, is sponsored the Gould Center for Humanistic Studies as the 2009 Golo Mann lecture. This lecture is made possible through the generosity of CMC alumnus Eugene Wolver '51. Several works of art by Er Tai and Maya Gao will be on exhibit at the Athenaeum for this presentation, in anticipation of a full exhibition of their work beginning in January, 2010.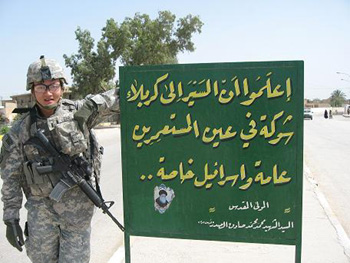 Truth and Consequences: One Man's Fight to Openly Serve His Country
DAN CHOI
THURSDAY, NOVEMBER 5, 2009
At the Human Rights Campaign's annual benefit dinner on October 10, President Obama affirmed his campaign pledge to end the U.S. military's "Don't Ask, Don't Tell" policy regarding gays and lesbians serving openly in the military,
saying
that, "We should not be punishing patriotic Americans who have stepped forward to serve the country. We should be celebrating their willingness to step forward and show such courage ... especially when we are fighting two wars." 1st Lt. Dan Choi has become a nationally recognized leader in the fight to overturn the policy, a move that has been supported by many active and retired military leaders.
The son of Korean immigrants,
Lt. Choi
grew up in Orange County before attending the U.S. Military Academy at West Point, where he graduated with degrees in Arabic and Environmental Engineering in 2003. He served as an infantry officer in the Iraq War before transferring to the New York National Guard. A founding member of
KNIGHTS OUT
, a support group for GLBT alumni of West Point, Lt. Choi "came out" during an
interview
on The Rachel Maddow Show on March 20, 2009. Despite his military service, especially as an officer fluent in Arabic, he quickly received notice that the U.S. Army had ordered discharge proceedings against him for violating "Don't Ask, Don't Tell." In an
open letter
he wrote to President Obama and to Members of Congress, he calle the discharge order a "slap in the face" and asked them to repeal the policy. Lt. Choi has since become a recognized activist, having spoken at various demonstrations and other gay rights events throughout the country, including at the
National Equality March
in October.
MARIAN MINER COOK ATHENAEUM
RECORDING POLICY
It is the policy of the Marian Miner Cook Athenaeum that no lecture, appearance or performance by any speaker or performer at the Athenaeum is to be videotaped, audiotaped, or otherwise recorded and/or broadcast without the prior written permission of the relevant speaker, performer, or other authorized owner of the intellectual property rights to the event. Anyone requesting permission to record an event is required to submit an "Event Recording Request Form" to Bonnie Snortum, the Director of the Athenaeum, at least 48 hours in advance of the relevant event. It is understood that the speaker, the performer, the Athenaeum, and any other event sponsor, as appropriate, reserve all intellectual property rights for each Athenaeum event. If you have any questions regarding this policy, please contact Bonnie Snortum at bsnortum@cmc.edu or at (909) 607-4180.
ATHENAEUM ETIQUETTE
The Athenaeum serves as a gathering place where ideas, inquiry, and fellowship bring students, faculty, staff, other scholars, and nationally prominent speakers together. Attendance at any event may be limited to persons associated with CMC, to the people who signed up for the dinner, or to the maximum number of people allowed by fire regulations. On some occasions the speaker may address the group in another forum or the College may set up a video feed to handle an overflow crowd. All programs at the Athenaeum are filmed. Individuals attending should understand that their image might appear on the videotape. House rules and common courtesy prohibit disruptive actions inside the building during an Athenaeum sponsored program. Time allowing, there will be a period set aside for questions. Students will have priority during this portion of the program. Guests are expected to dress appropriately in all dining rooms. Shorts, jeans, and t-shirts are not acceptable at dinner; more casual attire is acceptable for lunch and tea. No bare feet at any time.