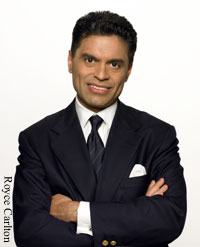 The Rise of the Rest: The Post-American World
FAREED ZAKARIA
TUESDAY, OCTOBER 27, 2009
One of the most familiar commentators on international affairs,
Fareed Zakaria
is the editor of
Newsweek International
. Born in India, he studied at Yale before receiving his Ph.D. at Harvard, where his dissertation adviser was Professor Samuel Huntington. After achieving his doctorate, he became managing editor of
Foreign Affairs
, where he was
charged with reinvigorating the popular journal
. In 2000, he transitioned to
Newsweek
, where he writes a regular column on foreign affairs. His cover article "
Why They Hate Us
," written after the September 11 terrorist attacks, launched Zakaria into the national limelight and garnered him several awards.
Zakaria used to serve as a news analyst with ABC's political talk show
This Week with George Stephanopoulos
and used to host a weekly show on PBS. Now, he broadcasts
Fareed Zakaria GPS
, a weekly program on CNN that brings in-depth interviews with world leaders and panel discussions with international analysts. He has also published several books, including
The Future of Freedom
(2003), a
New York Times
bestseller that has been translated into 20 languages, and most recently,
The Post-American World
(2008). Zakaria also has been named "one of the 21 most important people of the 21st Century" by
Esquire
magazine and one of the "top 100 public intellectuals" by
Foreign Policy
and
Prospect
magazines.
Dr. Zakaria's visit to CMC is sponsored by the Res Publica Society of Claremont McKenna College.