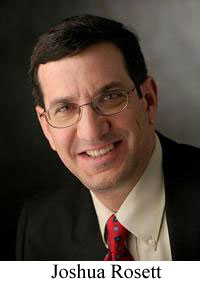 The Green Street Ensemble: An Evening of Chamber Music
JOSHUA ROSETT, violoncello
AUDREY LAMPREY, french horn
JAMIE BOYD CARIDI, piano
LORI IVES, viola
WILLIAM WELLWOOD, clarinet
EDRIS BOYLL-KUZIA, violin
WEDNESDAY, OCTOBER 28, 2009
CMC is known for having students with diverse skills, but its faculty members also deserve recognition for possessing impressive talents outside the classroom.
Professor Joshua Rosett
, the Curb Family Associate Professor of Business and Law at the Robert Day School of Economics and Finance, is also a gifted cellist, and he will perform in a chamber music concert at the Athenaeum.
Professor Rosett took up the cello after his middle school orchestra conductor told him, "you look like a cellist," perhaps out of a need for additional cello players. He planned to pursue a professional career in music, and he trained under Dudley Powers, a professor at Northwestern University and the First cellist with the Chicago Symphony. At 21, he switched to economics, and received his doctorate at Princeton University. He taught at a number of universities until coming to CMC in fall 2003. He joined the Claremont Concert Orchestra and has accompanied conductor Dean Michael Lamkin to Austria to play in the Haydn Festival, in addition to having played two noon concert programs at Scripps Balch Auditorium. Professor Rosett's cello was fashioned in London in 1740 and was a gift to him from his wife, and, as he mentions, "incidentally was purchased from the same middle school orchestra conductor who chose my musical fate when I was in fifth grade."
Audrey Lamprey is a graduate of the Eastman School of Music (B.M.) and Bowling Green State University (M.M.). Mrs. Lamprey is on the faculty at U.C. Riverside and Cal Poly, Pomona where she teaches various music classes. A member of the horn sections of the Riverside Philharmonic, Redlands Symphony and San Bernardino Symphony, she also is a member of the Lordsburg Trio. Mrs. Lamprey has an active teaching studio at her home in La Verne.
Jamie Boyd Caridi has a Master's Degree in Piano Performance from Duquesne University in Pittsburgh, Pennsylvania and a Master's Degree in Applied Women's Studies from Claremont Graduate University. She researches women composers and has presented lecture-recitals at a variety of conferences in the U.S., premiering the First Piano Sonata by Nancy Van de Vate at the 2001 Amalfi Music Festival in Italy.
Though her heart is in chamber music, violist Lori Ives served as principal viola with the Inland Empire, Redlands Bowl and Claremont Concert Orchestras and as section viola with the Rio Hondo and Redlands Symphonies. She has played in the Claremont Concert Orchestra since 1970. In 1990, the Claremont Symphony featured her in a double concerto for viola and clarinet and later that year, she soloed with the Claremont Concert Orchestra. Lori, a graduate (1961) of Harvey Mudd College, married her professor and never left Claremont.
William H. Wellwood (Clarinet) earned degrees include M.M. Yale School of Music and C.M.A. University of Southern California. He has performed in orchestra and chamber groups throughout the United States and is currently principal clarinetist with the Torrance Symphony Orchestra and bass clarinetist with the American Concert Winds/Long Beach Municipal Band. He has recently performed on the Distinguished Faculty Concert Series at the Colburn School of Performing Arts in Los Angeles (2005 & 2006). Dr. Wellwood is a on the faculty of the La Sierra University, the Bellflower Institute of Art Music and Science, the Claremont Community School of Music, and the Colburn School of Performing Arts.
Edris Boyll-Kuzia began studying violin as a third grader in the Knoxville, Tennessee public school music program. (The preceding is an unpaid plug for music education.) She majored in Music Education at Indiana University, studied privately with Ronald Knudsen of the Boston Symphony, and earned an M.A. in violin at The Claremont Graduate School (now University). Finding the demand for public school music teachers to be slim, she has spent most of her career teaching, and enjoying, first grade in Ontario, California. She currently plays viola in the Claremont Concert Orchestra, and as much chamber music as possible.