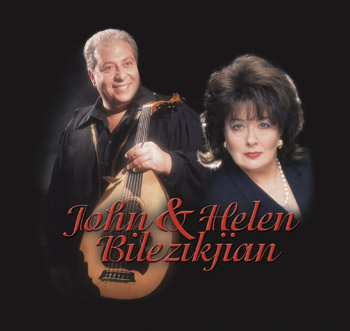 Songs from the Middle East
JOHN BILEZIKJIAN, oudist
HELEN BILIZIKJIAN, vocalist
TUESDAY, JANUARY 26, 2010
John Bilezikjian, acclaimed musician, singer, composer, and teacher, may be the most prominent Oudist of his generation, performing for some 51 years on this ancient eleven stringed Persian fretless instrument dating back some 2,000 years. The oud is performed with an eagle's quill. His mastery of this ancient instrument is the result of decades of practice and dedication to the art, elevating it to the concert stage in performances with such distinguished ensembles as the Los Angeles Philharmonic Orchestra. Renowned for his diversity of styles, Bilezikjian sings in 11 different languages including Arabic, Persian, Armenian, and English, and whose recordings include work with artists Leonard Cohen and Placido Domingo, to name a few.
Helen Bilezikjian is an accomplished singer of opera, folk, sacred, and secular music. She began studying voice for a career in opera at the age of eight. Possessing an incredible 3-octave range, she was awarded a Los Angeles City Music Scholarship at 15 years of age. She is the founder, general manager, and performer for the non profit organization Opera by the Sea, and also performs with ensembles that include Long Beach Civic Light Opera, San Diego Opera, Lindy Opera Company, and the Kansas City Opera.

In a concert jointly sponsored by the Arabic Program at CMC and the Athenaeum, John and Helen Bilezikjian will sing and perform songs that are Armenian, Turkish, Arabic, as well as selections from other Middle-Eastern countries. They will also speak about the rhythms, the folklore and what many of the songs mean in English. This is a rare and wonderful opportunity to experience music that has been a part of Middle Eastern cultures for centuries performed by these two distinguished musicians.