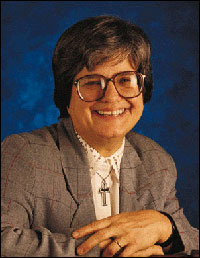 Dead Man Walking: The Journey Continues
HELEN PREJEAN
THURSDAY, JANUARY 28, 2010
Sister Helen Prejean, a native of Louisiana, is known internationally for her tireless work against the death penalty. She was instrumental in sparking national dialogue on the issue and in shaping the Catholic Church's newly vigorous opposition to all state executions.

Sister Helen is a member of the Congregation of St. Joseph. She spent her first 24 years with the Sisters teaching religion to junior high school students and working within her community, first as religious education director and then as formation director. At the age of 40, she realized that being on the side of poor people was an essential part of the Gospel. She moved into the St. Thomas Housing Project in New Orleans and began working at Hope House, a center that assists public housing residents.

During this time, she was asked to correspond with a death row inmate. She agreed and in 1982, she started visiting Patrick Sonnier in Louisiana's Angola Prison. She became his spiritual adviser, worked to prevent his execution, and finally walked with him to the electric chair. She did the same thing with a second prisoner, Robert Willie. Concerned with the plight of murder victims' families she founded "Survive", which provides counseling and support for grieving families.

She then wrote a book about her experience, Dead Man Walking: An Eyewitness Account of the Death Penalty in the United States, which Random House published in 1993. The book became a best seller, was nominated for a Pulitzer Prize, and spawned an Oscar-winning movie and an internationally-acclaimed opera. Now Tim Robbins has made it into a play that is being performed by high school and college students across the country.

Since 1984, Sister Helen has divided her time between campaigning against the death penalty and counseling individual death row prisoners. She has accompanied six more men to their deaths. In doing so, she began to suspect that some of those executed were not guilty. This realization inspired her second book, The Death of Innocents: An Eyewitness Account of Wrongful Executions, which was released by Random House in December of 2004.

She is a regular interviewee and contributor to national and international publications, and has become a recurring presence on major TV news shows. Besides her degrees in English and religious education, Sister Helen has received honorary degrees from universities all over the world and numerous awards. Sister Helen lives in New Orleans and works with the Death Penalty Discourse Center, the Moratorium Campaign and the Dead Man Walking Play Project. She is presently at work on another book - River of Fire: My Spiritual Journey to Death Row.

The film Dead Man Walking (1995) will be shown at McAlister Center on Monday, January 25th at 7:30 p.m. This event is free and open to all.