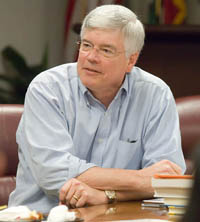 The Path to Leadership Mastery
MORGAN McCALL, JR.
WEDNESDAY, FEBRUARY 3, 2010
If leadership were a gift that was easily identified or a commodity that could be taught in programs and courses, then either selection or training would have produced a bevy of outstanding leaders. Clearly that is not the case. In his Athenaeum address, Professor Morgan McCall will suggest that leadership can be learned, but not by everyone; that the primary teacher is experience, but not just any experience; and that the path to mastery of leadership has much in common with the acquisition of expertise in any field.
Morgan McCall, Professor of Management and Organization in the Marshall School of Business at the University of Southern California, specializes in executive leadership. He was previously Director of Research and a Senior Behavioral Scientist at the Center for Creative Leadership in Greensboro, North Carolina.

McCall writes about the early identification, assessment, and development of executives, as well as the cause for their possible downfall. Among his published books are Frequent Flyers: Developing Global Executives, co-authored with George Hollenbeck (November 2001), Advances in Global Leadership, Volume II, co-edited with William Mobley (July 2001), and High Flyers: Developing the Next Generation of Leaders (1998) (translated into Japanese, Dutch, and Thai, and winner of the 1998 Athena Award for Excellence in Mentoring). He co-authored The Lessons of Experience: How Successful Executives Develop on the Job (1988), Whatever it Takes: The Realities of Managerial Decision Making (1992), Leadership: Where Else Can We Go? (1978), and Key Events in Executives' Lives (1987).

Dr. McCall is a sought-after speaker and consultant. He has worked with a variety of organizations including Amgen, Boeing, British Airways, Cisco Systems, Hewlett-Packard, Johnson & Johnson, Sun Microsystems, Royal Bank of Canada, and Toyota Motor Sales. He works with senior executives to develop corporate strategies and systems for executive development.

McCall received his B.S. from Yale and his Ph.D. from Cornell University. He is active in a variety of professional organizations including the American Psychological Association and has served on the editorial boards of Academy of Management Review and the Executive Management Journal. His visit to CMC is sponsored by the Kravis Leadership Institute.