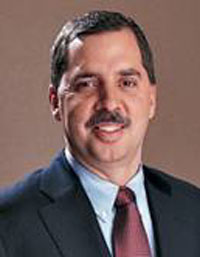 Robert Day School Distinguished Speaker Series
Lunch with a Leader: The Investment Management Industry
CHRISTOPHER DODDS P'13
FRIDAY, FEBRUARY 19, 2010
LUNCHEON 11:30 a.m., LECTURE 12:00 p.m.
Christopher V. Dodds works with The Carlyle Group as a Senior Adviser in their Financial Services practice. Dodds also serves on the Boards of Charles Schwab Bank, N.A.; ITG, Inc., an institutional securities broker; and Baron Capital, an investment management firm.

Dodds retired from The Charles Schwab Corporation in May 2007 after 21 years with the firm. From 1999 through 2007, he served as Schwab's Executive Vice President and Chief Financial Officer, responsible for strategic planning; financial planning and analysis; treasury; taxation; corporate accounting; external and regulatory reporting; mergers and acquisitions; investor relations; risk management; and corporate real estate.
Prior to his position as CFO, Dodds served as Corporate Controller from 1997 to 1999, Corporate Treasurer from 1993 to 1997 and Vice President of Corporate Finance and Mergers and Acquisitions from 1989 to 1993. Dodds joined Schwab in 1986 and held a variety of financial positions in treasury, financial planning and analysis and corporate development.
Before joining Schwab, Dodds served in the treasury departments of Gulf Oil, Exxon, and American Hawaii Cruises.
Dodds graduated magna cum laude with a bachelor's degree in business from Clemson University, where he was captain of the men's varsity basketball team. He earned his Master of Business Administration degree in finance from the University of Pittsburgh.

During his presentation, Mr. Dodds will discuss the "seven rules for successful financial executives."