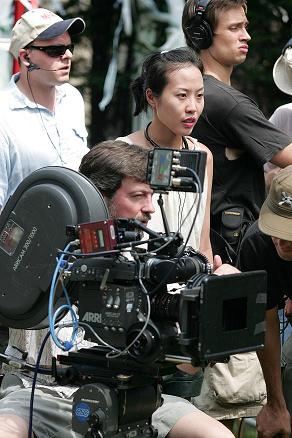 Faces of Seoul
GINA KIM
WEDNESDAY, FEBRUARY 10, 2010
Born in 1973 in Seoul, Korea, Gina Kim graduated from the Seoul National University and then moved to the United States where she attended CalArts. Her feature-length films, Gina Kim's Video Diary (2002), Invisible Light (2003), and Never Forever (2007), have screened at prestigious film festivals, including Berlin, Locarno, Rotterdam, Pusan, and Sundance, among many others.

The highly acclaimed, Never Forever (2007) (starring Vera Farmiga and Jung-Woo Ha), produced by Lee Chang-dong screened in competition at the Sundance Film Festival 2007 and was awarded the Special Jury Prize at the 2007 Deauville American Film Festival. Kim was nominated for Best New Director of 2008 in Korea's prestigious Daejong (Grand Bell) Awards. Martin Scorsese called Never Forever "A moving experience [in which] the performances are wonderful and touching, and the style...intense and very precise."

Kim's new documentary, Faces of Seoul (2009) recently had its world premiere at the 66th Venice Film Festival where she sat on the Orizzonti Jury. Repped by CAA, Gina Kim is now in development of several commercial film projects both in Hollywood and in Korea. Kim taught film production and film theory classes at Harvard University as a full-time lecturer for three years from 2004 to 2007.

The Athenaeum will show the film, Faces of Seoul, beginning at 6:30 p.m. (as dinner guests finish dessert!) and Ms. Kim will discuss the film and answer questions immediately after the screening.