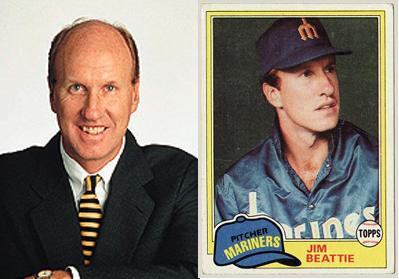 Life in Major League Baseball: Opportunities and Options
JIM BEATTIE P'11
MONDAY, FEBRUARY 15, 2010
Jim Beattie P'11 is a former Major League Baseball player and executive who pitched in the major leagues from 1978–1986. Highlights from his baseball career include pitching the winning Game 5 of the 1978 World Series as a member of the New York Yankees. On September 12, 1979, Boston's Carl Yastrzemski singled off Beattie for his 3,000th career hit. On September 27, 1983, Beattie hurled the first one-hitter in Mariners' history, beating the Kansas City Royals.

Beattie served as the Montreal Expos' general manager from 1995–2001. He was also the Baltimore Orioles general manager with Mike Flanagan from 2003–2005.

Jim's daughter Sarah is a junior at CMC and it is a great privilege to host Sarah's father at the Athenaeum as part of Family Weekend festivities.

The following timeline provides a view of Beattie's career path through professional sports and beyond:
Grew up in Maine

1976 - Graduated from Dartmouth College

1975 - Drafted and signed with NY Yankees. Played parts of two years (1978-79) in NY after time in minor leagues.

1978 – As a rookie, pitched and won the first game of the American League Playoffs vs KC Royals. Pitched and won 5th game of World Series vs. LA Dodgers.

1980-1986 – Traded to Seattle Mariners and played there through 1986 season.

1989 -Earned MBA from University of Washington.

1989-1995 - Minor League Director, Seattle Mariners Baseball Club

1995-2001 - General Manager, Montreal Expos Baseball Club

2002 – Assistant to General Manager, Montreal Expos

2003-2005 – Executive Vice President, Baltimore Orioles Baseball Club

Present – Lives in Boston and works for Bernstein Global Wealth Management as Financial Advisor.