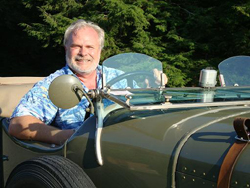 The Great Recession, the Great Stabilization, and the Shape of the Recovery
MANFRED KEIL
WEDNESDAY, FEBRUARY 17, 2010
The "Great Recession" began in December 2007 and most likely ended in June of last year. It has become the most severe recession in terms of its length, GDP growth, and employment losses since the "Great Depression" of the '30s. This economic downturn is remarkable for various other features such as the size of the bailout related to the financial crisis, the size of the stabilization package, the loss of jobs particularly for males and teenagers, and the impact on the economies of California and particularly the Inland Empire.

Professor Keil's research focuses on aggregate labor market outcomes, comparative economic performance of countries and region, issues in finance, politico-economic interaction, and the study of business cycles. His publications have appeared in the Journal of Applied Econometrics, Journal of Development Economics, Journal of Macroeconomics, Oxford Economic Papers, and Weltwirtschaftliches Archiv among others. Most recently he has started work with students at the Lowe Institute on economic issues facing the local economy.

Manfred Keil received his Ph.D. from the London School of Economics. He joined the faculty of Claremont McKenna College in 1995. He has taught in the Robert Day School of Economics and Finance (formerly the Department of Economics) since then, primarily in the fields of macroeconomics, econometrics, and statistics. In the summer of 2009, he completed his three year term as the Chairman of the Faculty of the RDS. Before coming to CMC, he held appointments in Boston, Montreal, and England. In addition to being a faculty member at the RDS, he is a research fellow of both the Lowe and the Rose Institute.