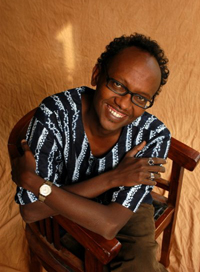 A Nomadic Soul
ABDOURAHMAN WABERI
TUESDAY, MARCH 9, 2010
Abdourahman A. Waberi is a Podlich Distinguished Fellow here at CMC. A novelist, essayist, poet and short story writer, he was born in Djibouti and spent his youth there. He was particularly affected by the upheavals in Africa as Djibouti declared its independence from France in 1977, describing a sense of "companionship" and literary obligation to his homeland. He left to study literature at the Université de Normandie and the Université de Bourgogne, both in France.

Waberi's literature is rich in metaphor and memories of his life in the Horn of Africa. He is the author of numerous works that have been published by themselves or in international magazines and newspapers. His first volume of stories Le Pays Sans Ombre (1994) received several awards, as did his second volume Cahier nomade (1996). Waberi worked as a literary critic for French publications and served as a member of the International Jury for the Lettre/Ulysses Award for the Art of Reportage in Berlin and the Impac Dubin International Literary Prize. He has received numerous French honors including being named among the "50 Writers of Future" by the French literary magazine Lire.

Waberi's work has been translated into ten different languages. Before coming to Claremont McKenna College, he was a Donald and Susan Newhouse Center Humanities Fellow at Wellesley College. Waberi is a well-travelled nomad, he is also active in UNESCO as an advocate against illiteracy.