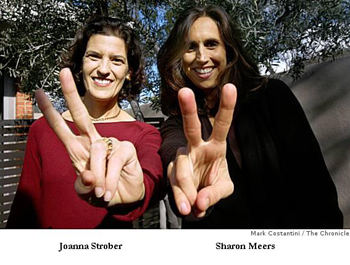 Getting to 50/50
JOANNA STROBER
WEDNESDAY, MARCH 10, 2010
Getting to 50/50 builds on what the latest research tells us: that children can thrive with two working parents and that fathers and mothers play equally important roles. It shows parents how to push back at 24/7 work demands and is filled with fresh insights from men and women who are successfully combining careers and family. I wish this book had existed when I was raising young daughters.
—Kathleen McCartney, Dean, Harvard Graduate School of Education

Co-author of Getting to 50/50: How Working Couples Can Have It All By Sharing It All (2009) Joanna Strober has spent her career in private equity, as an attorney and as a venture capital and buyout investor. She realized that there was no need to choose between family and career and that couples everywhere were experiencing undue stress trying to find a balance. She met with her friend Sharon Meers, who at the time was a Managing Director at Goldman, Sachs & Co. and they put their heads together to write this book. In her 16-year career at Goldman, Sharon ran several businesses and became one of the few female managing directors on the West Coast. In addition to mentoring many women, Sharon co-chaired the Women's Network in the Investment Management Division, served on the diversity committees of two of the firm's divisions and developed a mentorship program that linked high-potential women to senior male advisors. Joanna Strober's visit to CMC is sponsored by the Berger Institute for the Work, Family, and Children.

Strober is currently Managing Director of a fund investing in private equity partnerships at Sterling Stamos Capital Management. As one of the few women in private equity in Silicon Valley, she has been featured on the front page of the Wall Street Journal for launching many well-known and successful companies.

Joanna Strober lives in the Bay Area with her husband, Jason, a software entrepreneur, and their daughter, age 10, and two sons, ages 7 and 2. She holds a B.A. in Political Science from the University of Pennsylvania and a J.D. from UCLA.